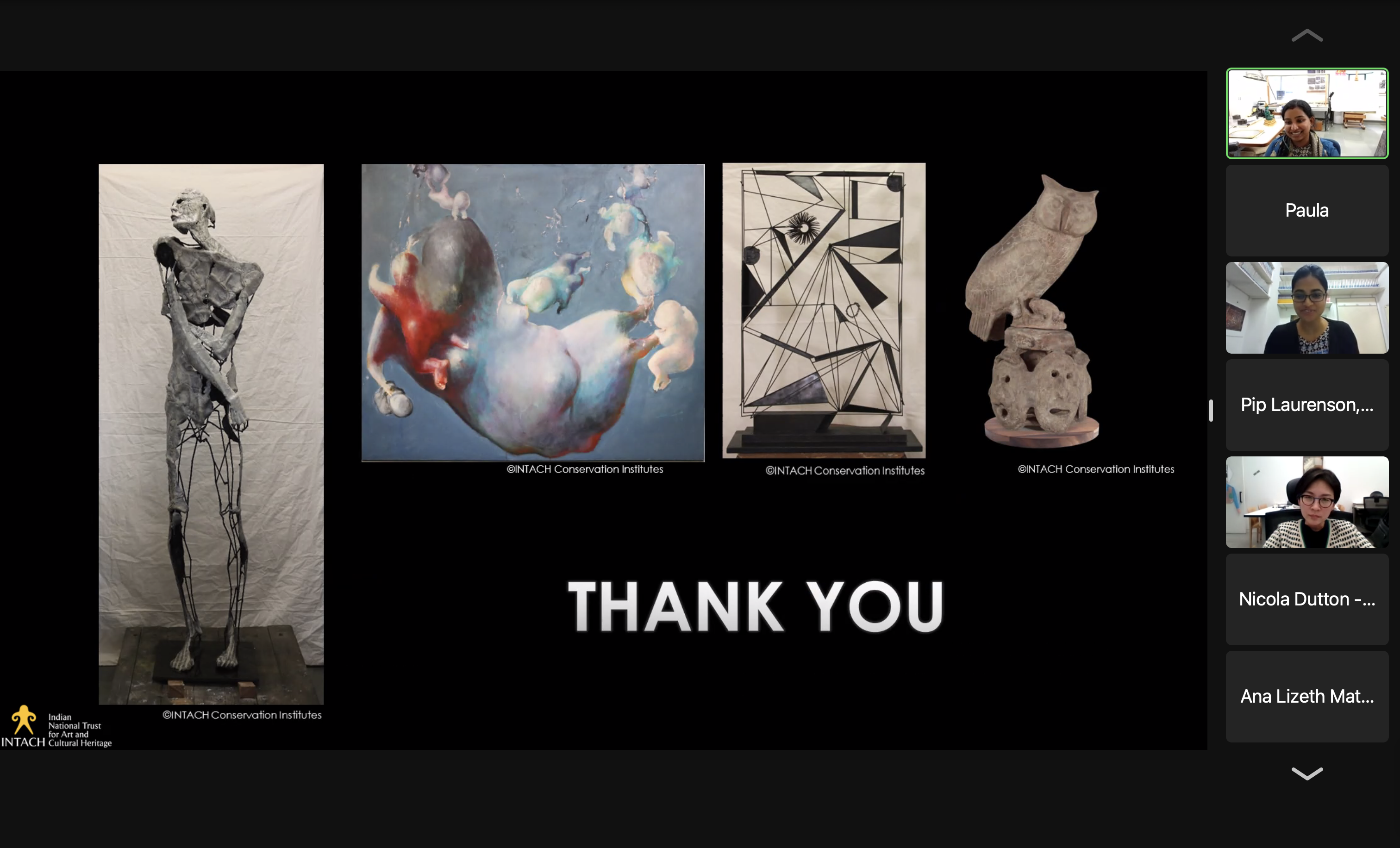 Hello INCCA Community,
In this newsletter edition, we would like to share with you what INCCA has worked on this year so far. In the meantime, we are also organising other events for the future so keep an eye on our social media for the latest updates!
At the beginning of the year, Thea van Oosten shared her extensive knowledge of the conservation of plastic and recent development in the field. Thea's publishing Properties of Plastics – a Guide for Conservators is the bible for conservators, curators, collectors, and students, coming from many years of research and teaching. You can find the recording here.
In March, we hosted the INCCA Café: Art Conservation in Latinoamérica with Humberto Farias de Carvalho, Magali Melleu Sehn, Luz Elena Mendoza Montemayor, Gabriela Baldomá, Carla Coluccio, and Ana Lizeth Mata Delgado. They presented various experiences in the training and conservation-restoration of contemporary art from different realities and contexts in Latin America. Unusual from our Cafés, we recorded the session in Spanish to share with everyone. You can find the recording here.
Later, we travelled to India with Merrin Anil and Subrata Sen for INCCA Talk: Challenges in Conservation of Contemporary Art Works in India. With case studies, they shared their thoughts about preserving the harmony between an artist's original thought process and its product from the perspective of a conservator. They further elaborated a conservator's decision of prioritising structural stability as well as retaining the complex art concepts. The Talk gave us a peek into the thriving conservation field in India. Watch the recording and read the transcript here.
We would like to thank everyone from all around the world that participated in the INCCA events as organisers, speakers, and audience. INCCA is working on expanding our international reach to connect, share our experiences, and inspire one another.
Thank you all for being part of the INCCA Community and stay tuned for the upcoming events!
With appreciation,
INCCA Steering Committee
Applications now open: Conservation Guest Scholars Program 2024-2…

The Conservation Guest Scholars Program at Getty provides opportunities for professionals to pursue research on topics that contribute to the advancement of practice in the...
CALL FOR PARTICIPATION: "ACTIVATING FLUXUS, EXPANDING CONSERVATIO…

ACTIVATING FLUXUS, EXPANDING CONSERVATION 112th COLLEGE ART ASSOCIATION ANNUAL CONFERENCE, CHICAGO Invitation to submit abstracts to a virtual session. Fluxus of the 1960s and 70s...
Fully funded Collaborative PhD studentship at London South Bank U…

Fully funded Collaborative PhD studentship at London South Bank University in partnership with Tate. Performativity and Preservation in the Archive of Online Born-Digital Art The...