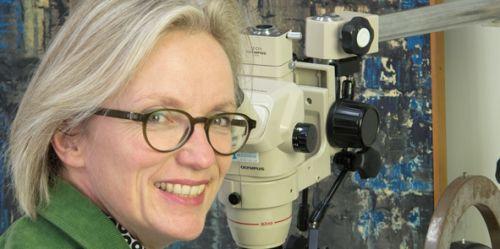 Location
SRAL Studios, Weibengahal, Avenue Ceramique 224, 6221 KX, Maastricht, The Netherlands
Date and time
-

Seminar:  Modern Art Conservation in practice: Different Ways of Decision-making for the Conservation of Modern and Contemporary Art by Lydia Beerkens

Wednesday 4th April 2018 - Friday 6th April 2018 at SRAL Studios, Weibengahal, Avenue Ceramique 224, 6221 KX, Maastricht, The Netherlands

 

Hosted by SRAL (Stichting Restauratie Atelier Limburg), www.sral.nl

 

*Overview:*

The material given in the seminar is directed towards the latest

developments in this field.

 

Lectures on: 

• Contemporary materials and techniques in the art production

• Different ways of decision making

• Ethics and aesthetics in the (conservation)treatment of modern art

•  Strategies for a tailored (specific?) approach per Art Movement (kinetic art, Zero art, Arte Povera, Outdoor Sculptures etc.)

• The artist's involvement and guidelines for daily practice

 

Platform discussion 

•    on conservation issues and case studies from the participants

 

Practical sessions:

• Recognising plastics in your collection

• The Artist Interview as a tool in conservation

 

Visit: 

•    A local artist studio

•    Public Art route Maastricht

 

This three-day workshop focuses on the theory and practice in conservation of modern and contemporary art, a relatively new specialization within the field of art conservation. The workshop will discuss major themes such as decision making, ethics and aesthetics, the role of the artist through a varied selection of cases from the studio practice including topics as plastics conservation, preservation of kinetic Art, The Artist Interview as a tool, on the cleaning of Zero artworks, and Sculptures in public space.

 

Instructor:

The seminar will be lead by Dr. Lydia Beerkens, Senior Conservator Modern and Contemporary Art at SRAL. Lydia Beerkens is a leading researcher and practitioner in modern art conservation, and has worked in this field for museum and corporate collections for 20 years now. She teaches lectures, publishes internationally and is involved in various research projects.

 

Seminar fees:

Standard: €550, 00.

Seminar fees will include lunches.

 

Deadline for registration: Thursday, 1st March 2018.

 

There will be 15 places available for:

•    Young and Mid-career Conservators in Modern Art Conservation.

•    Collection Managers and Curators in Contemporary Art.

 

Registration forms are available at info@sral.nl and www.sral.nl or download it here on the right.

 

Numbers are limited to 15 participants and are allocated on a first come basis.

Discount bookings for accommodation at Townhouse Design Hotel only through SRAL.

 

Organisers: Kate Seymour and Siska Losse

 

Stichting Restauratie Atelier Limburg (SRAL)* is a leading institute specialised in the conservation and restoration of paintings,

sculptures, contemporary artworks and historic interiors. We provide an integrated approach to conservation issues through research, consultancy and education.