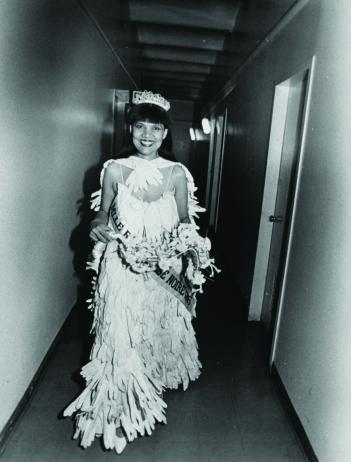 VOICE OF THE ARTIST: LORRAINE O'GRADY
OCTOBER 3, 2013 AT FALES LIBRARY, BOBST LIBRARY AT NYU
Program Partners: VoCA, Grey Art Gallery, The Studio Museum in Harlem, The Fales Library and Special Collections and NYU Museum Studies.
Should activist and/or situation-specific performance art be re-performed? Can images, video, and critical reviews adequately convey the experiences of those who witness performance works? What is the role of the archive? These questions and others will be considered in the context of the Lorraine O'Grady archive at Wellesley College. Joining Radical Presence artist Lorraine O'Grady are moderator Glenn Wharton, Art Conservator, Museum Studies, NYU; Lisa Darms, Senior Archivist, Fales Library; and Thomas J. Lax, Assistant Curator, The Studio Museum in Harlem.
Offered in conjunction with Radical Presence: Black Performance in Contemporary Art, an exhibition in two parts. Part I: September 10–December 7, 2013, at the Grey Art Gallery, NYU; Part II: November 14, 2013–March 9, 2014, at The Studio Museum in Harlem.
Voices in Contemporary Art (VoCA) is a non-profit organization focused on the preservation and stewardship of contemporary art. Please visit www.voca.network to learn more about our mission and programs. If you would like access to the transcript of this VoCA Talk or have any questions, please email: assistant@voca.network.