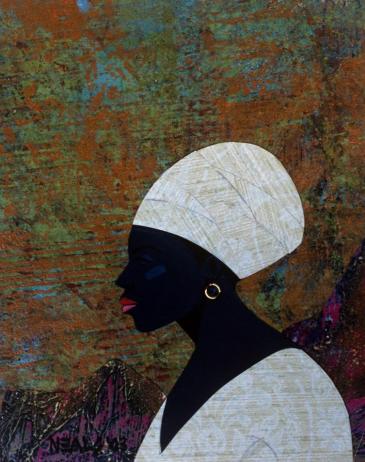 On October 15, 2016, CALL artist Otto Neals sat down at his home in Crown Heights, Brooklyn, with VoCA Program Committee Member Jonathan Allen to discuss his life and prolific career as a painter, sculptor, and printmaker in New York City. This discussion was part of the second season of our on-going CALL/VoCA Talks series, hosted in partnership with the Joan Mitchell Foundation's Creating a Living Legacy (CALL) Program. These programs aim to highlight the innovative CALL initiative while also underscoring the crucial need for dialogue with artists around the production, presentation, and preservation of their work.
Otto Neals is a Brooklyn-based painter, sculptor, and printmaker whose prolific body of work celebrates African, Caribbean, and African American peoples and challenges longstanding cultural, social, and economic injustices. As a participant in the Black Arts movement, he held leadership roles in several important cultural organizations such as the Weusi Artist Collective and Nyumba Ya Sanaa Gallery, the Fulton Art Fair, and Dorsey Gallery. He has completed numerous public commissions around NYC and has exhibited in many distinguished institutions, including the Library of Congress, the Smithsonian Institution, the Columbia Museum of Art, the Huntsville Museum of Art, the Ghana National Museum, and The Schomberg Center. In 2015, a 50-year retrospective of his career was held at multiple venues across NYC, including Medgar Evers College, Tabla Rasa Gallery, and the Bedford Stuyvesant Restoration Corporation.
Jonathan Allen is an artist who works in painting, collage, video, and performance and have been a member of VoCA's program committee since 2015. In New York, he has exhibited at Lu Magnus, PS122, Exit Art, Socrates Sculpture Park, Artists Space, Bravin Lee, Caren Golden, and BRIC Gallery. He participated in the Lower Manhattan Cultural Council's Workspace, Swingspace, and Process Space residency programs and the Bronx Museum of Art's Artist in the Marketplace program, and has been awarded residencies at the Bogliasco Foundation in Italy, Cill Rialaig in Ireland, and Blue Mountain Center. He is the recipient of grants from the Pollock-Krasner, Chenven, Puffin, and George Sugarman Foundations, and holds a B.A. in Visual Arts/Art History from Columbia University. Allen frequently collaborates with poets and dancers.
Voices in Contemporary Art (VoCA) is a non-profit organization focused on the preservation and stewardship of contemporary art. Please visit www.voca.network to learn more about our mission and programs. If you would like access to the transcript of this VoCA Talk or have any questions, please email: assistant@voca.network.