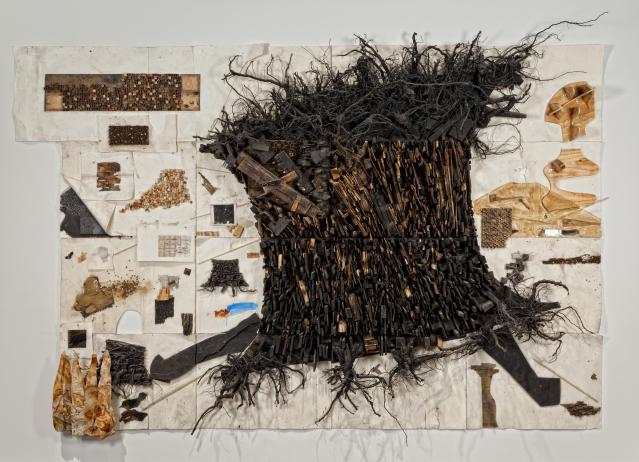 On February 1, 2016, artist Leonardo Drew sat down with Rebecca Hart, Polly and Mark Addison Curator of Modern and Contemporary Art at the Denver Art Museum to discuss his dynamic large-scale sculptural installations. A transcript of this interview is available upon request.
Leonardo Drew is a Brooklyn-based artist whose sculptures can be seen as exercises in formalism rooted in the very experience of looking. On the other hand, these works explore memory by employing a wide range of material to evoke common elements of the human experience and of our diverse histories. Drew attended the Parsons School of Design and received his BFA from the Cooper Union for the Advancement of Science and Art in 1985. Since then he has shown in a variety of institutions such as The Hirschhorn Museum and Sculpture Garden at the Smithsonian Institution in Washington DC, the Royal Hibernian Academy in Dublin, Ireland, The Art Institute of Chicago, The Miami Art Museum, and the St. Louis Art Museum. He has also collaborated with the Merce Cunningham Dance Company, and has participated in artist residencies at ArtPace, San Antonio and The Studio Museum of Harlem in New York City, among others.
Voices in Contemporary Art (VoCA) is a non-profit organization focused on the preservation and stewardship of contemporary art. Please visit www.voca.network to learn more about our mission and programs. If you would like access to the transcript of this VoCA Talk or have any questions, please email: assistant@voca.network.