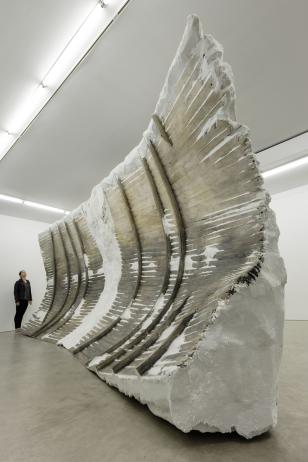 On Thursday, September 29, 2016, artist Blane De St. Croix sat down with VoCA Board Member Robin Clark at Cabinet in Brooklyn to discuss how his work engages topics including the geopolitical landscape, border issues, climate change, pollution, land erosion, and preservation. This event was the first in the second year of our on-going CALL/VoCA Talks series, hosted in partnership with the Joan Mitchell Foundation's Creating a Living Legacy (CALL) Program. These programs aim to highlight the innovative CALL initiative while also underscoring the crucial need for dialogue with artists around the production, presentation, and preservation of their work.
Blane De St. Croix is an installation artist and researcher who constructs monumental scale sculptures, drawings, and collages that interrogate the nuanced and complicated human relationships between contemporary landscapes, ecology, and geopolitics. His projects have included topics of border issues, land use, mountaintop removal, strip mining, deforestation, climate change, pollution, land erosion, and preservation, and have been widely exhibited both nationally and internationally at venues including Fredericks & Freiser, New York, NY and the Sculpture Center, Long Island City, NY.
Robin Clark is Director of the Artist Initiative at the San Francisco Museum of Modern Art and a member of the VoCA Board of Directors.
Voices in Contemporary Art (VoCA) is a non-profit organization focused on the preservation and stewardship of contemporary art. Please visit www.voca.network to learn more about our mission and programs. If you would like access to the transcript of this VoCA Talk or have any questions, please email: assistant@voca.network.