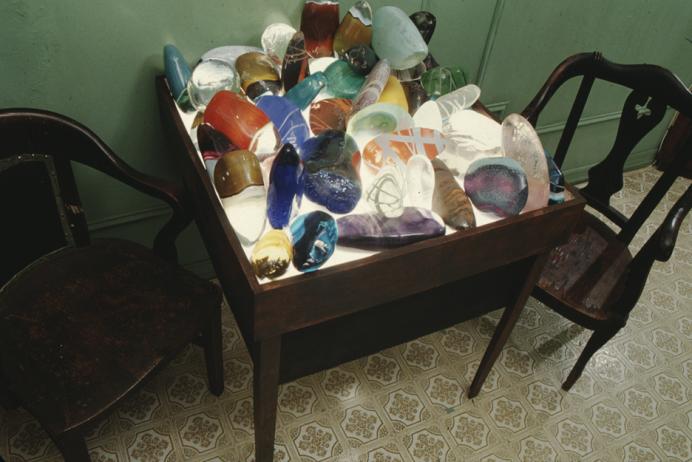 On Friday, October 30, 2015, CALL artist Arlan Huang sat down with artist and Legacy Specialist Beth Krebs and Robin Clark, VoCA Board Member and Director of the Artist Initiative at SFMOMA at the Joan Mitchell Foundation Education & Research Center to discuss his practice and the experience of documenting his life's work. This event was one of a series of four that VoCA hosted this winter in partnership with the Joan Mitchell Foundation's Creating a Living Legacy (CALL) Program highlighting the innovative CALL initiative while also underscoring the crucial need for dialogue with artists around the production, presentation, and preservation of their work.
Arlan Huang is a painter and sculptor whose labor intensive handwork compliments his seemingly simple and elegant forms. Huang has designed public works of art for the National Endowment for the Arts and has created permanent glass sculptures for New York City's Percent for Art program and the Dormitory Authority of the state of New York.
Beth Krebs is an artist who has exhibited her work in galleries and alternative spaces in New York and abroad, including the Brooklyn Academy of Music (BAM), Mixed Greens, Smack Mellon, the Bronx Museum of Art, Station Independent Projects, the Cue Foundation, Real Artways, and the Elizabeth Foundation Project Space.
Robin Clark is Director of the Artist Initiative at the San Francisco Museum of Modern Art and a member of the VoCA Board of Directors.
Voices in Contemporary Art (VoCA) is a non-profit organization focused on the preservation and stewardship of contemporary art. Please visit www.voca.network to learn more about our mission and programs. If you would like access to the transcript of this VoCA Talk or have any questions, please email: assistant@voca.network.