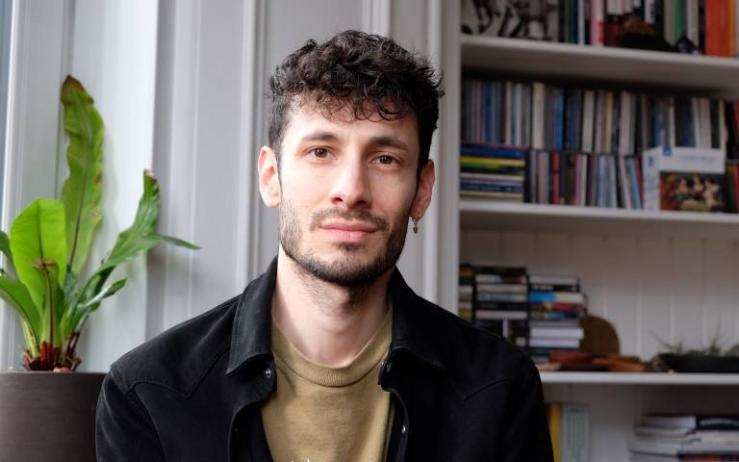 UCL History of Art welcomes new lecturer, Dr Brian Castriota, on the MSc Conservation of Contemporary Art and Media.
Brian Castriota is a researcher, educator, and conservator specialised in time-based media, contemporary art, and archaeological materials. Brian is currently Time-Based Media Conservator at the National Galleries Scotland in Edinburgh. Since 2018 he has worked as a freelance conservator for time-based media and contemporary art at the Irish Museum of Modern Art in Dublin. He also serves as Supervising Conservator with the Archaeological Exploration of Sardis and has worked with the expedition since 2011.
Alongside his conservation practice Brian has been deeply invested in advancing education in relation to the care and perpetuation of contemporary art. He was a contributor to the Andrew W. Mellon-funded Curriculum Development Committee for Time-Based Media Art Conservation Education at the Institute of Fine Art of New York University; he has been an Adjunct Lecturer in Time-Based Media Conservation in the programme and continues to serve on their Curriculum Advisory Board. He is currently Lecturer in Curating and Conserving Time-Based Media at the University of Glasgow.
Brian completed graduate-level training in conservation at the Institute of Fine Arts of New York University in 2014, was a Samuel H. Kress Fellow in Time-Based Media Conservation at the Solomon R. Guggenheim Museum in New York from 2014 to 2016 and received a PhD in History of Art from the University of Glasgow in 2019. As part of the Horizon 2020 Marie Skłowdoska-Curie ITN "New Approaches in the Conservation of Contemporary Art" (NACCA) Brian's doctoral research examined notions of artwork identity and authenticity commonly invoked in conservation theory and practice.
Brian has published and lectured widely on these topics including in collaborations with UCL Faculty Dr Hélia Marçal and Dr Renata Peters. Brian is currently co-editing with Dr Glenn Wharton and Dr Rebecca Gordon a volume on the conservation of contemporary art in the Getty Conservation Institute's Readings in Conservation series.
His recent and forthcoming publications consider how ideas from agential realism and other queer and feminist new materialisms rework and aerate sedimented practices of conservation. These ideas have inspired Brian to explore how the thinking and doing of conservation can be understood as a past-present-future-facing practice of knowledge production and care, wherein individuals, artworks, and other forms of heritage are continually reconfigured as entangled parts of the world's worlding.
Brian joins Programme Director, Prof Pip Laurenson, who had this to say: "I am absolutely delighted that Brian is joining me and the rest of the team delivering the MSc in the Conservation of Contemporary Art & Media at UCL East. Brian brings a wealth of experience and depth of innovative and creative thinking in time-based media conservation and teaching. This is an incredible opportunity for the students to be taught by one of the leading thinkers and practitioners in the field today".
We look forward to welcoming Brian to the department and benefitting from his diverse experience and talents.