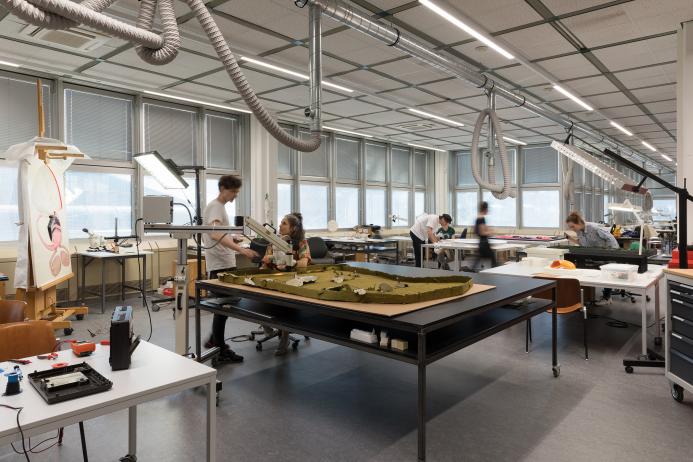 The Institute's program is a 5-year (10 semesters) diploma study at University level, equivalent to a MA-degree. The curriculum is structured according to the five specializations offered: Paintings and sculptures / paper, photographs, books, archive material /objects- focus on wood /mural paintings –architectural surface / modern & contemporary art conservation (established in 2005 with a new chair). Academic studies can be pursued within the PhD program.
Specialization Conservation of Modern & Contemporary Art
In this field of specialisation students will be engaged in the examination and conservation of various objects ranging from two- and three-dimensional artworks to installations and media art. They will not only deal with conceptual or performative forms of art, but also with a great variety of novel materials and artistic modes of production and technologies, which will compel participants to re-think the principles and methods of conservation ethics.
An important teaching approach is to confront students with original artworks; in this context, it is our key objective to convey the skills and knowledge necessary to examine artworks with regard to the artistic process involved, to document all the aspects of the work and finally to carry out conservation measures. Furthermore, issues of material technology, conservation strategies for modern and contemporary painting and synthetics, and the basics of conserving technical and/or electronic components are approached in both theory and practice. Students will also learn how to apply special forms of documentation, interviewing techniques and methods of analysis and evaluation. When teaching conservation with regard to contemporary art, we closely cooperate with artists, a practice well established at the Institute.
Curricular structure
In the first year of the program, general courses cover the fundamental topics for the conservation of cultural heritage: conservation theories, principles of documentation; basic knowledge and practices of art technology;
In the 2nd, 3rd and 4th years, the courses are divided in 2 groups: Group A courses cover general contents in associated disciplines, primarily: Organic Chemistry, Art History, Media Theory, Conservation History & Ethics, Preventive Conservation, Documentation;
Group B Courses are mandatory courses, specifically focusing on Contemporary Art Conservation. They are thematically divided into 3 content clusters: Methodology & Documentation, Synthetic Materials and Time-based Media
The 5th year is dedicated to the diploma theses. Students must submit a written thesis, focusing on a case study research and complete the conservation / preservation of an authentic work of art.
We only train a few students, which means we are able to provide personalized tutoring for each project. The studio practice at the Academy of Fine Arts is supplemented by mandatory internships during the summer breaks. We encourage the students to participate in conferences to introduce them to the international networks.
Faculty
Gerda Kaltenbruner (Chair M&C Art Conservation)
Martina Pfenninger-Lepage (Head of Studio)
Christa Haiml-Muthspiel, Karin Steiner (Lecturers /Studio Practice)
Valentina Pintus (Material Analysis)
Christoph Freidhöfer (Electro-technical Components)
Agathe Jarczyk, Reto Kromer, Johannes Gfeller (External Lecturers)
Pool of Experts / Cooperating Institutions:
Johannes Kapeller (Austrian Media Library)
Thomas Koch (Material Science, Vienna University of Technology)
Oliver Maklott (IT-Systems and Coding)
Almut Schilling (Archiving of Digital Data)
Johannes Steurer (Institute of Sensor and Actuator Systems)
Nadja Wallaszkovits (Phonogrammarchiv Vienna)