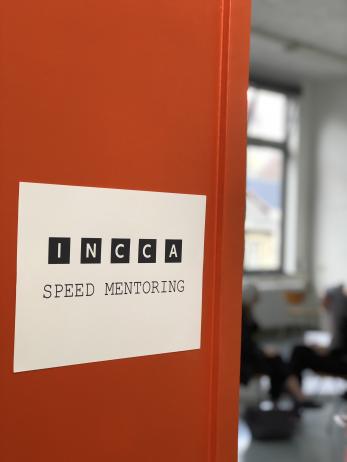 Are you coming to the
Future Talks 019
conference in Munich? If so, it is now possible to sign up to a fun and informal session planned during the lunch break on Tusday the 12th of November This will be the third session of its kind since the launch of the INCCA mentoring programme in November 2018.
What is speed mentoring?
The INCCA speed mentoring session is an opportunity for participants of the conference to meet with established professionals in the field. 10 volunteer mentors have kindly agreed to participate in this session in Munich and it is now possible to sign up for a meeting! 
The session is an opportunity to ask the mentor anything! You can talk about them, about you, or about the field in general. During this time, nobody will interrupt you, you will not have to pluck up the courage to introduce yourself, or worry about how to get out of an endless or waning conversation! After 10 minutes, a bell will ring, and you will say farewell and allow the next mentee to sit down. 
Ten mentors
10 wonderful mentors that have volunteered to share their expertise in this session. The mentors are:
Tim Bechthold Head of Conservation at Die Neue Sammlung, The Design Museum in Munich.

Reinhard Bek partner of bek&frohnert LLC based in New York City.

Roger Griffith Associate Sculpture and Objects Conservator. The David Booth Conservation Department, The Museum of Modern Art, New York.

Suzan de Groot Conservation scientist, Cultural Heritage Agency of the Netherlands (RCE)

Brenda Keneghan Senior polymer scientist, Victoria and Albert Museum, London

Anna Laganà Research Specialist,  Getty Conservation Institute, Los Angeles.

Christian Scheidemann is senior conservator and President of Contemporary Conservation in New York.

Barbara Sommermeyer conservator at the Hamburger Kunsthalle / Gallery of Contemporary Art

Sanneke Stigter Assistant Professor in Conservation and Restoration of Cultural Heritage at the University of Amsterdam.

Thea van Oosten independent conservation scientist and advisor,  retired from the Cultural Heritage Agency of the Netherlands (RCE) in 2011.
Tom Learner, Head of Science at the Getty Conservation Institute and INCCA Steering Committee member will be coordinating the session on the day.
Yes, I want to sign up!
To sign up, please send an
email to Karen te Brake-Baldock
with your first and second preference. The 10 minute slots will be filled on a first-come, first-served basis. Each mentor will be able to meet with a maximum of four people. Read more about the mentors in this 
PDF
.
More information on the INCCA mentoring programme can be read 
here
.
Kind regards,
Karen te Brake-Baldock, also on behalf of Tim Bechtold (organiser of Future Talks) and the INCCA Steering Committee.