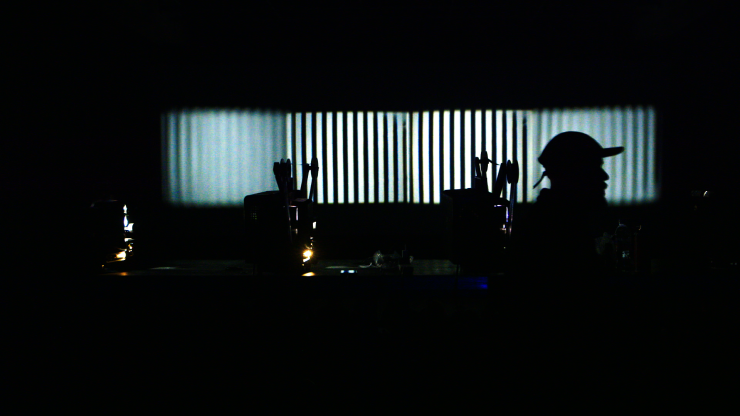 Friday, May 17, 2019 – 19.00 to 21.00 - Tate Liverpool
American artist, filmmaker and musician Tony Conrad's Ten Years Alive on the Infinite Plain was first performed on 11 March 1972 at The Kitchen in New York. The work pairs hypnotic 16mm film loops with a drone played on amplified string instruments, including a "long string drone" invented by the artist.
Over ninety minutes the alternating patterns of black and white vertical stripes overlap and create new optical effects. Conrad intended the work to induce a 'suspension of presence', a contemplative state brought about by the contrast between the rapid pulsation of the images and the slow movement of the music.
Conrad's work will be performed at Tate Liverpool on Friday 17 May. For this performance, the first with musicians and projectionist new to the work since the artist's passing in 2016, researchers at Tate have created documentation with Conrad's estate and long-time collaborators. The effectiveness of this documentation will be tested through performance. This will inform the future conservation and display of the work as it enters Tate's collection.
Research into Conrad's work has been conducted as part of Reshaping the Collectible: When Artworks Live in the Museum, a major project funded by a grant from The Andrew W. Mellon Foundation. The research project focuses on works which challenge the practices and definitions of the museum.
Ten Years Alive on the Infinite Plain is an ideal case study for exploring the ways in which institutions can successfully transmit complex live works of performance to future generations.
More information about the performance, which is free to attend, can be found on the Tate website.
To find out more, or join the project's mailing list, please contact: ReshapingTheCollectible@tate.org.uk
This research event is supported by the Estate of Tony Conrad, Greene Naftali, New York, Tate Americas Foundation and a grant from The Andrew W. Mellon Foundation.