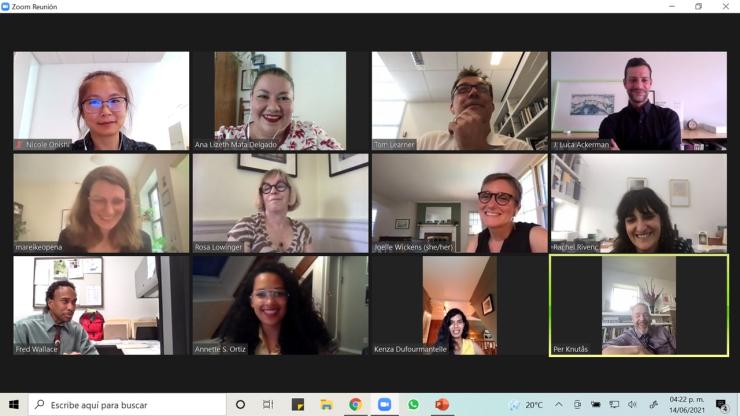 On 14th June of 2021, the second virtual INCCA Speed Mentoring session was carried out during the virtual AIC annual meeting, organised in collaboration with 
AIC's Contemporary Art Network (CAN!)
.
The session occurred on Zoom with each mentoring session taking place in individual break-out rooms, allowing for uninterrupted time together. We had an exceptionally impressive group of mentors this year, located in a number of countries (Australia, Canada, Denmark, and the United States), and speaking a number of languages. Each were eager to listen, discuss and advise the mentees. There was great interest in the session and each of the nine mentors spoke with 4 mentees. Mentees included emerging professionals, conservation students and a pre-program student considering conservation as a career path.

Many thanks to Luca Ackerman, and the CAN! team, for making this session possible as part of AIC 2021 and to Nicole Onishi at the GCI who took care of all the assignments to break-out rooms seamlessly. And of course to all our volunteer mentors Annette, Fred, Joelle, Kenza, Lizeth, Mareike, Per, Rachel, and Rosa. (Full names in bold below.)
Despite the success of the virtual sessions, the INCCA Steering Committee looks forward to returning to in-person Speed Mentoring sessions in 2022!
Photo information of the mentors (from left to right, top to down)
Nicole Onishi Getty Conservation Institute (GCI), LA
Ana Lizeth Mata Delgado Academic coordinator of the Bachelor's Degree in Restoration at ENCRyM (Escuela Nacional de Conservación, Restauración y Museografía), Mexico City; INCCA Steering Committee
Tom Learner GCI, INCCA Steering Committee
J. Luca Ackerman Conservator in private practice; chair of CAN!
Mareike Opeña Associate Conservator at Contemporary Conservation Ltd. in New York
Rosa Lowinger President of RLA Conservation
Joelle Wickens Associate Director of the Winterthur/University of Delaware Program in Art Conservation (WUDPAC)
Rachel Rivenc Head of Conservation and Preservation at the Getty Research Institute, LA; INCCA Steering Committee
Frederick Wallace Chief Conservator and Director of Conservation at the Indianapolis Museum of Art (IMA) - Newfields, in Indianapolis, Indiana
Annette S. Ortiz Miranda Researcher/conservation scientist at SMK – Centre for Art Technological Studies and Conservation (CATS), in Copenhagen
Kenza Dufourmantelle Director of Research, Conservation and Scientific Services at the Canadian Conservation Institute (CCI)

Per Knutås Head of Conservation, Museum of Fine Arts, Houston