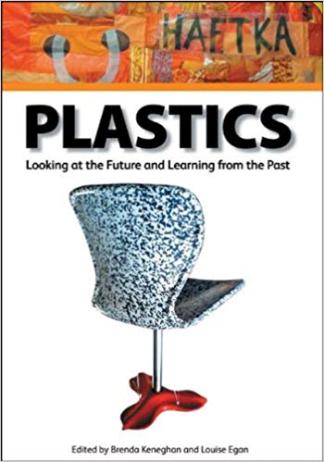 PLASTICS: Looking at the Future, Learning from the Past
Edited by Brenda Keneghan and Louise Egan
Archetype Publications, 2009
ISBN: 9781904982432
Paperback, 184 Pages. 96 colour, 41 half tones Illustrations
This volume of postprints of a conference held at the Victoria and Albert Museum, is intended as a 'marker in the sand', a record of current perceptions and considerations of plastics within museum collections.
Artists' concepts of plastic as a medium, and their views of ageing and decay, challenge museum ethics. The dichotomy between an artist's intent and engagement with their contemporary culture and longevity has resulted in many different resolutions - from the display of original (decayed) materials to recording and recreating digital images of the original to the creation of aesthetically interpretable replicas. The balance between using and preserving 'plastic' artwork is a fine and delicate line of compromise.
The complex enigma of how to identify from which (of the many) synthetic polymers, the mass-produced 'plastic objects' within our collections are formed, remains, as yet, unsolved. Instead, through experience, observation and research, museums are developing collecting policies, recording techniques and preservation strategies which take pragmatic and utilitarian approaches, differentiating between stable and unstable plastics on the grounds of age, colour, design etc. Whilst generic understanding of decay mechanisms are becoming more fully understood, there has been limited success in creating the tight environmental controls needed to extend the longevity of plastic-based materials.
Contents
Conservation of Plastics
Early cellulose nitrate coatings on furniture of the Company of Modern Craftsmen
Angela Meincke, Daniel Hausdorf, Nonie Gadsden, Mechthild Baumeister,
Michele Derrick, Richard Newman and Adriana Rizzo
Conservation of plastics: is it possible today?
Yvonne Shashoua
Conservation: restoration of 20th-century collections at The Homewood (Esher) and 2 Willow Road (Hampstead)
Fiona Macalister, Caroline Cliffe, Sally Johnson, Ann Katrin Köster and Christine Lachelin
Houston – we have a problem: when flying saucers become brittle
Tim Bechthold
The conservation of polymers used in horology since the end of the 19th century: a multidisciplinary approach
Agnès Gelbert Miermon and Annick Vuissoz
Go with the flow: conservation of a floating sculpture from 1961 made from glass fibre-reinforced polyester resin
Lydia Beerkens, Sanneke Stigter, Thea van Oosten and Henk van Keulen
Educating conservation of modern materials: case studies
Friederike Waentig
Matthew Barney's Stadium: a treatment of replacement
Margo Delidow, Roger Griffith and Scott Gerson
Innovative conservation: scenarios for future collaborations
Louise Cone
Exploring photogrammetry and laser scanning of plastic sculptures
Lyndsey Morgan, Jackie Heuman, Derek Pullen and Stuart Robson
Scientific Investigation
Naum Gabo's Construction in Space: Two Cones: history and materials
Beth A. Price, Sally Malenka, Ken Sutherland, Andrew Lins and Janice H. Carlson
Preventive conservation research for plastics on open display
David Thickett and Emma Richardson
Lights out! The conservation of polypropylene wall tapestries
Thea B. van Oosten, Irina Fundeanu, Clementine Bollard, Cristina de Castro and Anna Lagana
Testing treatments to slow down the degradation of cellulose acetate
Susan Mossman and Marie-Laure Abel
Collecting Plastics
You collected what?! The risks and rewards of acquiring cellulose nitrate
Mary Coughlin and Ann M. Seeger
Challenge of materials? A new approach to collecting modern materials at the Science Museum, London
Fran Coles
Taking a risk: collecting for the future
Sue Prichard and Suzanne Smith
You can have a new one – it'll be better anyway! Plastic challenging art insurance
Thomas Wessel
Aspects of Design
Plastics in everyday life: polymorphous (in)authenticity
Tom Fisher
Hazards at home?
Erin Leary and Chris Youssef
Design and sustainability
Steve Akhurst
Utilising waste plastic in design practice
Rosie Hornbuckle
Artist's Intent
Site-specific polyethylene: experiments in durability
Pamela Wells
A plastic story: an intimate look at the artist-material relationship
Emma Neuberg