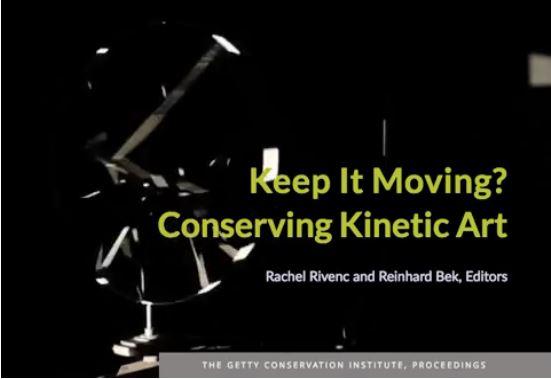 Proceedings from the meeting organized by the Getty Conservation Institute, the ICOM-CC Modern Materials and Contemporary Art Working Group, and Museum del Novcento Palazzo Reale, Milan, Ital, June 30–July 2, 2016
Edited by Rachel Rivenc and Reinhard Bek, 2018
These proceedings present the latest research and scholarship on kinetic art with fifteen essays and eight posters. The online edition includes videos to capture more accurately the effects conjured by kinetic artworks. The publication may also be downloaded free of charge in EPUB, MOBI/Kindle, and PDF formats from the homepage of the online edition.
Kinetic art not only includes movement but often depends on it to produce an intended effect and therefore fully realize its nature as art. It can take a multiplicity of forms and include a wide range of motion, from motorized and electrically driven movement to motion as the result of wind, light, or other sources of energy. Kinetic art emerged throughout the twentieth century and had its major developments in the 1950s and 1960s.
In 2016, presenters from North and South America, Europe, and Oceania gathered to discuss issues in the preservation of kinetic art. Some of the discussions were very technical, but more general and wide-ranging preoccupations also emerged: the role of the conservator; functionality and experience versus materiality; the question of artist intent and artist involvement; the meaning of longevity and identity; obsolescence not only of materials but also of expertise and competence; and the influence of fame, fashion, and market on conservation.
While most presentations originated from the conservation point of view, broader definitions of preservation were also proposed in a thought-provoking paper (see Brobbel and Rees) by the Len Lye Foundation. The two keynote articles lay important theoretical ground for the subsequent papers and tackle two major aspects of kinetic art preservation. Tiziana Caianiello focuses on re-creation and restaging to explore the boundaries between interpretation and overinterpretation, while in his paper, Reinhard Bek establishes three main preservation strategies for kinetic art: retirement, replication, and maintenance.