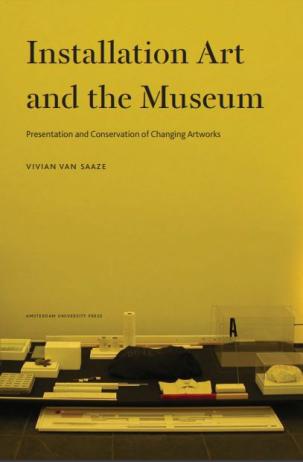 VIVIAN VAN SAAZE, Maastricht University
Installation Art and the Museum will become essential reading for scholars and professionals who work in the art world, along with anyone with serious interest in contemporary art and its display. It is an engaging account of what goes on behind museum doors as staff struggles to maintain a sense of authenticity with variable art. Van Saaze reveals the tensions between artists, curators, and conservators who re-create and alter these works for public display. Video requires reformatting and new exhibition equipment as technologies go obsolescent. Installation works change when re-designed for new gallery spaces. Artists challenge the notion of single authorship by transferring decision-making to museum staff or by distributing their role through collaborative practice. The art examined in this book is inherently unstable, and its care provides a rich context for understanding what happens when agreed-upon social practice in museums is disrupted by external change. Interdisciplinary scholarship at its best.
–  Glenn Wharton, Conservator at the Museum of Modern Art and Research Scholar in Museum Studies, New York University, USA
This book is a significant and innovative contribution to the literature. At present there is a lack of such a publication addressing in an accessible manner the emergence of contemporary artists' installations within a museum context and the practice of those responsible for the display and conservation. This publication provides a valuable read for both those new to the subject and the more experienced reader. It is an important and timely piece of research which I believe will be both influential and widely read.
–  Pip Laurenson, Head of Collection Care Research, Tate, UK
Installation art has become mainstream in artistic practices. However, acquiring and displaying such artworks implies that curators and conservators are challenged to deal with obsolete technologies, ephemeral materials and other issues concerning care and management of these artworks. By analysing three in-depth case studies, the author sheds new light on the key concepts of traditional conservation while exploring how these concepts apply in contemporary art conservation.
Contents: Introduction: Challenges of Installation Art; Key Concepts and Developments in Conservation Theory and Practice; From Singularity to Multiplicity: Authenticity in Practice; From Intention to Interaction: Artist's Intention Reconsidered; From Object to Collective, from Artists to Actants: Ownership Reframed; Conclusion: Challenges and Potentialities of Installation Art; List of Illustrations; References; Interviews; Index.
Paperback | ISBN 978 90 8964 459 6 
220 pages | 30 colour illustrations | 2013