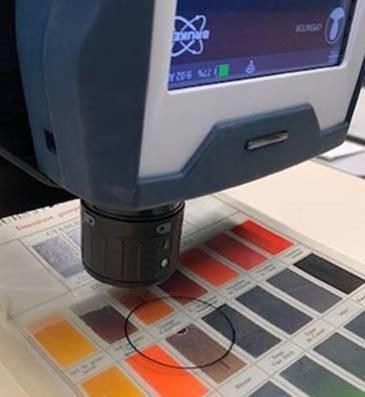 This project is part of the Research Programme 20th-century Heritage carried out by the Cultural Heritage Agency of the Netherlands (RCE).
In this project, the RCE is gathering and sharing knowledge about the use of synthetic organic pigments in modern painting. Since their introduction in the early 20th century, synthetic organic pigments (SOPs) have conquered the world as a both less expensive and more colourful alternative to traditional pigments. Every year, hundreds more flooded the market. Though popular with prominent, progressive artists, architects and interior decorators, the use of these new pigments in art objects is almost entirely undocumented.
SOPs are difficult to detect and identify and consequently little is known about their structure, characteristics and stability. Learning more about these factors would provide additional guidance for dating and authentication of artworks and for more effective conservation and restoration. New research equipment, combined with archival research, now make it possible to reconstruct industrial production methods and detect pigments in reference materials and artworks. This provides better insight into their stability and behaviour over time and will enable recommendations for conservation and restoration measures.
Collaboration
The RCE is conducting this project in collaboration with a number of Dutch museums and collections, the Royal Talens Archive, the BASF and Bayer archives and two reference collections in Germany (the dye collection at Niederrhein and another at TU Dresden). Technical exchange on the analytical characterization of SOPs is taking place within SOPRANO, an international research group.
Results
SOP analysis protocol
Overview of historical uses of SOPs by art paint manufacturer Talens
Overview of historical recipes used by pigment and paint manufacturers (Talens, BASF, Bayer and predecessors)
Overview of the origins and chemical composition of SOPs in the RCE reference collection
Overview of pigments in a selection of paintings from the period 1918-1950 in Dutch museums, and creation of a database
Digitization of archive material for colour and pigment production and creation of a database for reference, research and archive material