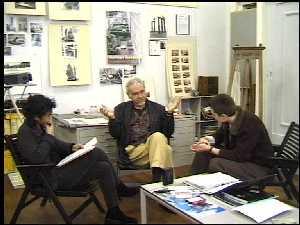 During this project ten Dutch artists were interviewed on their working processes, the use and meaning of materials and techniques, deterioration of the art works, etc. During the project a concept scenario for artists' interviews has been developed. 
The research project 'Conservation of Modern Art' (carried out by the Foundation for the Conservation of Modern Art, 1996-97) and the international symposium 'Modern Art: Who Cares?' (Amsterdam, 1997) had brought to light the need for information provided by artists or their representatives. In 1998 the Netherlands Institute for Cultural Heritage took the initiative for a pilot project Artists' Interviews, once again in collaboration with Dutch museums.
During the project interviews were conducted with Marinus Boezem, Eugène Brands, Sjoerd Buisman, Madelon Hooykaas/Elsa Stansfield, Niek Kemps, Sonja Oudendijk, Lydia Schouten, Carel Visser, André Volten en Leo Vroegindeweij.
The interviews had a main focus on the creation, working process and artistic intent. The artists were invited to describe step by step their practice of working, the choice of materials and intentions behind it, their view on the appearance of the work and aging processes, and finally on the approaches followed for the conservation of the works. Rationale for organising a conversation according to the 'life cycle of the artwork' (starting with the creation and ending with practical issues of restoration & treatment) is that knowledge needed for conservation can be reached through a profound understanding of the creation and intentions of the work.
The project also put an emphasis on building up artists' archives during the preparation of the interviews. Interdisciplinary teams prepared the interviews in collaboration and much documentation was collected. Also, many works were surveyed during the preparation and documented in condition reports. The interviews were recorded on videotape and evaluated by conservation experts who are familiar with the artists' oeuvres.
The scenario has been drawn up as a general outline for the conversation. Stages of the scenario can be distinguished into questions about the 'creative process', 'use and meaning of materials and techniques', 'influences and (art historical) context', 'meaning and ageing of the art work', 'deterioration' and 'conservation/restoration'.
A PDF version of the Concept Scenario Artist Interviews can be accessed at this link: