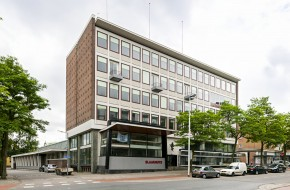 In this project, the RCE is gathering, examining and sharing information about the characteristic colours of built heritage from the period 1940-1980. It responds to calls to restore the original colour schemes and thus character of these buildings.
Built heritage from the period 1940-1980 (Reconstruction and Post '65) requires active preservation efforts to prevent it from being lost. One important aspect is buildings' colour schemes. How can we learn more about the colours originally used and make them available once more?
Few original colour fans and product catalogues made for paint and linoleum manufacturers still survive, and translating them to modern-day paints and materials takes great precision. Colours in original photographs meanwhile are prone to discolouration. How can we engage manufacturers to safeguard this cultural heritage? We need their information and their willingness to bring specific colours, paints and materials back into production. How can we gain insight into the specific research techniques needed to identify authentic paint layers? In everything 'from a chair to a city' (in the words of architect Jaap Bakema (1914-1981)), the aura of heritage is after all defined by that authentic layer. The right colours can enhance building quality both streetside and inside, thus contributing to residents' appreciation for their appearance and to the enjoyment and preservation of these properties.
Collaboration
The Cultural Heritage Agency of the Netherlands (RCE) is conducting this project in collaboration with the City of Rotterdam, the Post-war Reconstruction Community Rotterdam platform, Het Nieuwe Instituut, the University of Amsterdam, TU Delft, Docomomo, Forbo and paint manufacturers Sikkens, AkzoNobel and others.
Results
Knowledge about: 
paint types (pigments, methods of analysis)
product names
colours (colorimetry, colour fans, colour images, discolouration)
binding agents, through laboratory tests, archival research, literature reviews and interviews with painters/paint makers
Post-war Reconstruction Community Rotterdam colour fan
The project also aims to get residents involved in the problems and results of this research, enabling them to take action themselves.
Example (see image above)
Slaakhuys, formerly Het Vrije Volk (1952-1954), Rotterdam – J.J. Vegter & P.A. Leupen