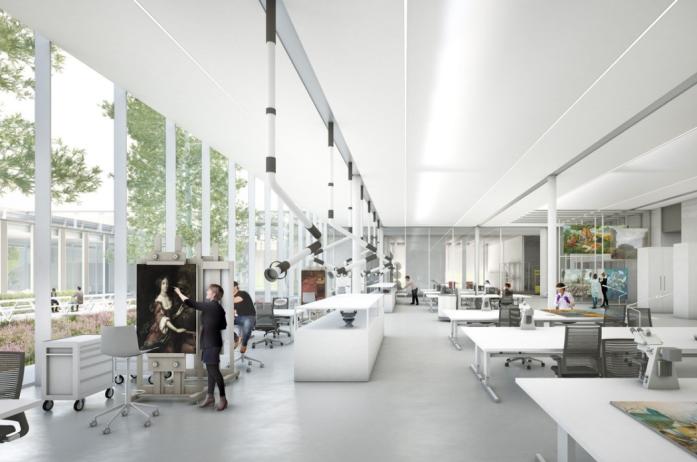 This project is directed at developing case studies for material-technical research based on 20th-century objects in the Cultural Heritage Agency's collection. The Cultural Heritage Agency of the Netherlands (RCE) manages a large portion of the State Collection at the CollectieCentrum Nederland (national collection centre; CC NL). This collection represents a cross-section of materials and techniques used over the centuries in all conceivable disciplines. Its focus is on the 20th century, a period in which there is still much to learn as regards materials and techniques.
Various entities in this field have an ongoing need for relevant case studies. At the same time, all kinds of interesting discoveries are being made in the collections that never come to light. Several criteria have been formulated to better connect this supply and demand:
Does the case help broaden our knowledge about shared heritage?
Can students in this field learn from it?
Will the research aid successful restorations?
Will the conservation/restoration aid in loans?
Does the research and treatment tell a worthwhile story?
This project seeks to systematically 'mine', save and provide access to the State Collection's treasure trove of information for use in practice. By learning more about materials and techniques, we will learn more about responsible collection management and preservation as well. This research also taps a wellspring of marvellous stories about the genesis of artworks – and their inevitable deterioration. The popularity of Dutch TV programmes such as Het geheim van de meester and Project Rembrandt have already shown there is a growing interest among the wider public in the fabrication processes and material-technical side of our cultural heritage.
Results
Method and instructions for the uniform recording of case studies and interesting materials and techniques
Supply of case studies for educational use and thesis projects
Collaborative project with a (preferably smaller) museum in the form of a loan or publication
Publication on findings/methods
Series of smaller publications on specific case studies
Image above - Conservators at work in the CollectieCentrum Nederland (CC NL).