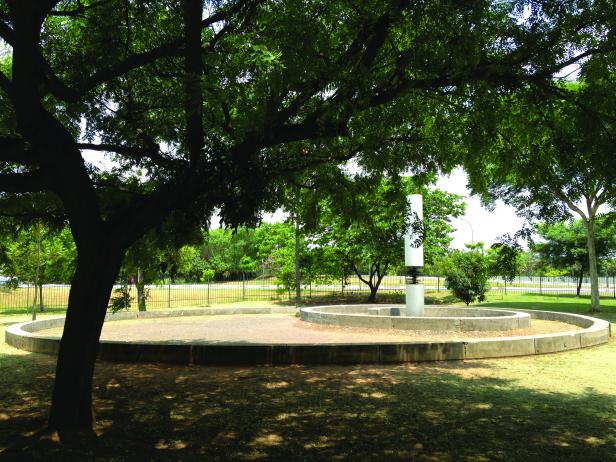 link:
http://www.teses.usp.br/teses/disponiveis/16/16133/tde-09092015-105553/en.php
Abstract in English
The subject of the research is preservation and conservation of art from recent periods in public spaces with a focus on works by Mary Vieira in Brazil located in the cities of Belo Horizonte, Brasília, Poços de Caldas and São Paulo (Monovolume: liberdade em equilíbrio; Polivolume: ponto de encontro; Boate Azul and Polivolume: conexão-livre, respectively). Conservation as an act of culture, should be tackled through theoretical and conceptual reflections as well as technical and operational measures,always guided by the work to be restored. The dissertation therefore presents an investigation of the artist's production, with special attention to its contribution to a public space; and a review of the available theoretical contributions in the field of conservation, especially in regard to the new problems posed by modern and contemporary productions. In order to register the current condition of the mentioned works and wonder about possible interventions on them, this research seeks to demostrate the existence of methodological unit, that may lead to further studies on works of art and architecture, either recent and old.
Abstract in Portuguese
A preservação e o restauro de obras de arte de períodos recentes em espaços públicos conformam o tema da pesquisa, que tem como objetos as obras de Mary Vieira no Brasil localizadas em Belo Horizonte, Brasília, Poços de Caldas e São Paulo. (Monovolume: liberdade em equilíbrio; Polivolume: ponto de encontro; Boate Azul e Polivolume: conexão-livre, respectivamente). O restauro, como ato de cultura, deve ser calcado em reflexões teórico-conceituais que balizam intervenções técnicooperacionais, sempre guiadas pela própria obra a ser restaurada. A dissertação apresenta, pois, uma investigação da produção da artista, com especial atenção à sua contribuição para se pensar o espaço público; bem como uma revisão dos aportes teóricos disponíveis no campo da restauração, sobretudo no que diz respeito às novas problemáticas colocadas pelas produções moderna e contemporânea. Com o objetivo de registrar o estado atual de conservação das obras citadas e refletir sobre possíveis intervenções, a pesquisa busca evidenciar a existência de uma unidade metodológica, que pode conduzir trabalhos em obras de arte e arquitetura, antigas e recentes.
Master's Dissertation
DOI 10.11606/D.16.2015.tde-09092015-105553
Document Master's Dissertation
Author Santos, Pedro Augusto Vieira (Catálogo USP)
Full name Pedro Augusto Vieira Santos
Institute/School/College Faculdade de Arquitetura e Urbanismo
Knowledge Area History and Fundamentals of Architecture and Urbanism
Date of Defense 2015-04-28
Published São Paulo, 2015
Supervisor Kuhl, Beatriz Mugayar (Catálogo USP)
Committee Kuhl, Beatriz Mugayar (President); Freire, Maria Cristina Machado; Scifoni, Simone