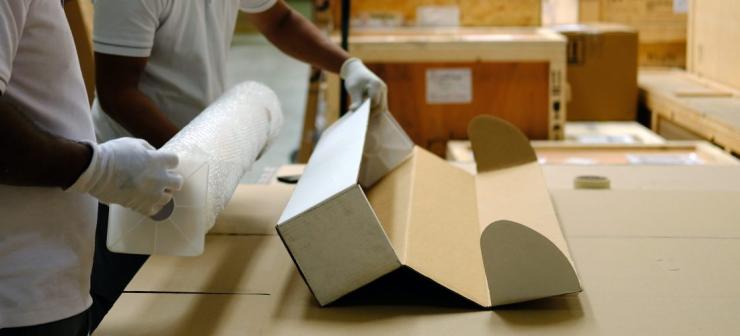 Art Jameel's Collection Care Fellowship addresses the particular challenges and opportunities associated with managing, conserving and caring for institutional art collections situated in West Asia and associated climates and situations across South Asia, Africa and/or relevant countries. 
The research fellowship seeks to explore various aspects of museum practices including conservation, collection and archives management, environmental concerns, logistics, digital access, art handling and documentation, which to date have been dominated by narratives set by museums in Europe, the UK and North America. The fellowship's objective is to critically review existing guidelines and suggest new approaches that are applicable to institutions based in the Gulf, the broader West Asia region and the Southern Hemisphere.
This fellowship invites practitioners to apply with (ideas for) research projects centered around collection care that consider new and expanded approaches to collection management. It also embraces interdisciplinary approaches that encompass the climate emergency, environmental science, ecology, new technologies and related areas. It aims to disseminate fresh insights into collection care, develop innovative tools and guidelines for practical implementation, facilitate knowledge exchange between individuals and institutions, and provide accessible resources for further research. 
Art Jameel welcomes a broad spectrum of early-career researchers and professionals. The fellowship is designed to provide participants with in-depth exposure to Art Jameel's collection management practices, methodologies and challenges. The fellowship will combine both online and in-person components, with the fellow invited to conduct onsite research at Jameel Arts Centre, Dubai, and complete additional research in their place of residence. 
The research projects are developed and implemented in close collaboration between the fellows and the Art Jameel team and further project-specific partners in an open and collaborative research environment. 
Fellowship Details:
Duration: 12 month fellowship that provides one fellow an intensive, research based approach to collection management practices. The fellow will be based in Dubai for 1-3 months, spread across 3 research trips. 
Networking: Each fellow will be introduced to local practitioners and thinkers that can support, mentor and contribute to their research during the fellowship programme.
Research and Innovation: Fellows will have access to Art Jameel's Library and Collection facilities and resources. 
Collaborative Environment: Fellows will actively engage with Art Jameel's vibrant team and community.
Eligibility Criteria:
Early career and/or post-doctorate researcher in a relevant subject, and/or working in areas including but not limited to conservation, collection management and registration.
Interest and experience in working in the Global south contexts. 
Demonstrated expertise in specific areas of collection management, care and/or other industries that relate to these areas. 
Innovative thinker with excellent research, analytical and problem-solving skills.
Scope and Objectives:
To research and find practical solutions for collection care and environmental challenges related to collection practices. 
To produce innovative research that informs new practices and has 'real-world' application in art institutions. 
To produce new modes of thinking and doing that will in the future inform policy decisions related to collection care and environmental challenges in the region. 
Deliverables and Outcome:
Work on an individual research project
Liaise with the Collection team regularly throughout the fellowship, including four set 'check-in' meetings to discuss the progress of the fellow's research. 
Participate in two workshops or talks during the fellow's research trips to Dubai
Submit a substantial report (approx 7000-8000 words) in the form of an essay or report, at the end of the fellowship (format to be discussed through the residency) and present your research at an event hosted by Art Jameel. 
Application Process:
Interested candidates are invited to submit the following documents:

Curriculum vitae (CV) highlighting relevant education, professional experience, and related research or projects.
Statement of interest outlining the primary focus of your research, your personal interest in the Fellowship and Art Jameel, and what you hope to achieve during the programme.
Research abstract including research question and timeline (500 words)
Prior research papers or equivalent projects (minimum 2)
Two professional referees

Applications should be sent via this link. 
The deadline for applications is November 10, 2023. Shortlisted candidates will be contacted for an interview and may be requested to provide additional materials or references.
*Update: The deadline has been extended to November 30.
Please note that the fellowship is paid and fellows will receive the following:
Research stipend of $10,000 USD to cover costs for the duration of the fellowship. 
Travel, per diem and accommodation for 2-3 trips to Dubai (dates tbc)
Support from AJ team to facilitate the research, introduction to locally based experts, scholars and industry professionals. 
For more information about the Art Jameel Collection please click here.
Questions related to the Fellowship please email collections@artjameel.org.
Photo: Courtesy of Art Jameel