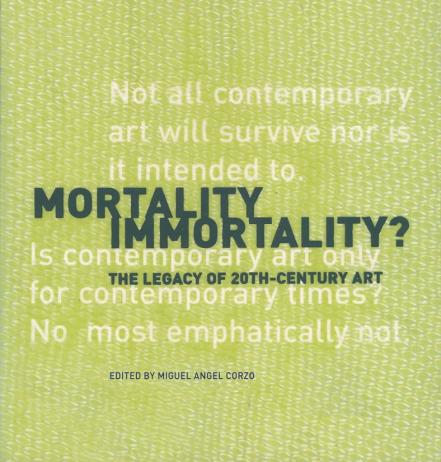 Which objects or events will define the art of our time? Who will decide what is to be preserved for posterity and how that will be done? If an artist chooses ephemeral materials, should the work be allowed to deteriorate?
These are among the questions posed in this stimulating volume, based on a conference on the preservation of contemporary art held at the Getty Center in March 1998. Professionals from a range of disciplines—artists, museum directors, curators, conservators, art historians, dealers, collectors, and scientists, as well as a philosopher and a lawyer—offer their individual perspectives on the artist's original intent, the effect of the art market, ways to cope with rapidly evolving media technologies, and fine art as popular culture.
Authors include celebrated artists Judy Chicago and Bill Viola; philosopher Arthur Danto; collectors Clifford Einstein and Agnes Gund; and museum professionals Roy A. Perry, head of conservation at the Tate Gallery, London; James Coddington, chief conservator at the Museum of Modern Art, New York; Peter Galassi, chief curator of photography at the Museum of Modern Art; and John Hanhardt, senior curator of film and media arts at the Solomon R. Guggenheim Museum, New York. The foreword is by Mildred Constantine, a former curator at the Museum of Modern Art.
Download your free copy here: https://gty.art/3Hbtntg