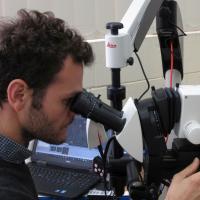 Matteo Volonte
Department
Paintings Conservation
Address
53 Victoria Ave
2067
Chatswood
NSW
Australia
Member Since
Member since October 13, 2014
What is your education and/or training?
Matteo attained a Diploma of Fine Arts and a Master of Painting Conservation at Accademia di Belle Arti, Aldo Galli in Como, Italy, where he trained in the conservation of a broad range of painted surfaces.

Skilled in the conservation of easel paintings, gilt surfaces including frames and decorative painting on wood, such as wooden ceilings and polychrome sculptures. Matteo is also trained in the conservation of mural painting and frescoes.

Telephone
+61 2 94173311
Mobile
+61 402671548