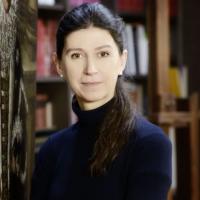 Katherine Ara
Address
London
United Kingdom of Great Britain and Northern Ireland (the)
Member Since
Member since October 10, 2007
What is your education and/or training?
Katherine trained at Newcastle Polytechnic, receiving an MA in the Conservation of Fine Art before furthering her studies at the Hamilton Kerr Institute, where she was awarded the Post Graduate Diploma in the Conservation of Easel Paintings. Sponsored by the John Paul Getty Trust, she then spent two years at the Tate Gallery, working primarily on 19th and 20th century paintings from the collection.

She has worked as a practising conservator-restorer in both the private and the museum sector for more than thirty years, including at the Royal Collection and the National Museums Liverpool, before establishing her current studio in London. The Studio undertakes the conservation and restoration of easel paintings from Old Master to contemporary works of art.

Katherine has published and lectured on materials and techniques of painting and restoration. She is an accredited member of ICON, and a fellow of the AIC, the BAPCR and the IIC.
Telephone
+44 02077928338