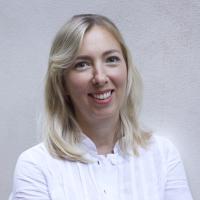 Flavia Parisi
Member Since
Member since February 10, 2019
What is your education and/or training?
Ph.D in Conservation of Contemporary Art, from the Polytechnic University of Valencia, with the thesis "The Public and Contemporary Artworks: an analysis of the relationship between the education and conservation functions of the museum".

Worked for different institutions such as: MAXXI, National Museum of 21st Century Art in Rome; ICCROM - the International Centre for the Study of Preservation and Restoration of Cultural Property); Dallas Museum of Art, Texas, USA, and privately as assistant for art galleries and curators.

From 2013 to 2018 worked on the development of the ICCROM CollAsia programme on Conservation of Heritage Collections in Southeast Asia, on the implementation of conservation courses in Cambodia, Malaysia, Indonesia, Guatemala, South Korea, Vietnam and Laos, and on the International Summer School on Communication and Teaching Skills in Conservation Science.

Since 2019 she works as collection's manager for the Photographic Collections Unit at the MAXXI Museum in Rome, and continues working as a consultant in the private and public sector.
Mobile
0039 3393764682