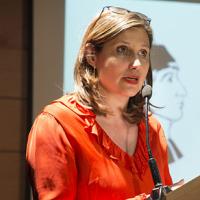 Diana Angoso de Guzman
Department
Fine Arts Department
Address
c/Sta. Cruz de Marcenado, 27
28015
Madrid
Madrid
Spain
Member Since
Member since April 18, 2008
What is your education and/or training?
Lecturer at Nebrija University in Madrid and Director of the Master in Art Market and Management. Ph.D (Cum Laude) in Contemporary Art from the University Complutense. Art History Degree from the UCM, Madrid , Painting Conservation Diploma from the Istituto di Restauro, Florence
My research areas are anthropology of materials, material meaning and the fluid relationship between matter and artists.

Telephone
+34 91 452 11 0
Mobile
+34 609722634