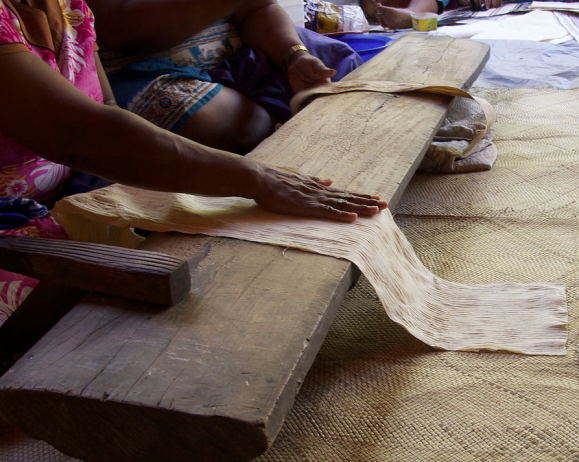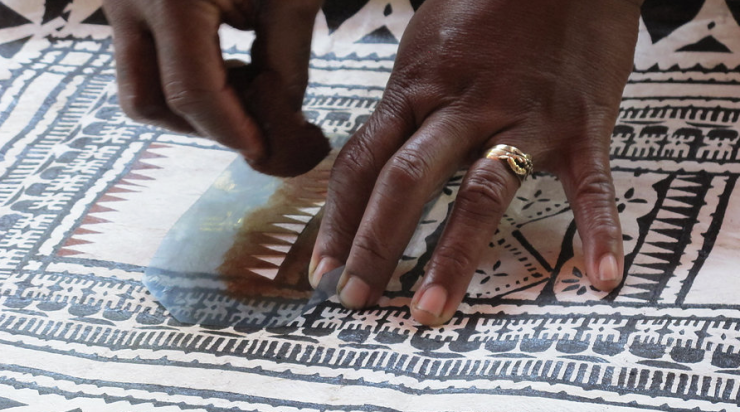 Masi (bark cloth) is a culturally significant cloth used across Fiji to celebrate major events and occasions. It is traditionally a female art form and is made from the paper mulberry tree and decorated with stencilled designs pigmented with red clay (umea) and soot from the candlenut tree (sikeci), with mangrove tree (dogo) sap used as a binder. ​
The designs to decorate masi are passed down family lines, becoming the cultural copyright of the communities they derive from. Producing masi is also very labour intensive, and large pieces used for important occasions, such as a wedding, may take up to a month to make.
In recognition of the national importance of masi to Fijians, the Fiji Museum in Suva, Fiji, hosted a one-week masi workshop in 2015, which received sponsorship from the Taiwan Embassy in Fiji. It brought together some of the country's most senior masi makers from the islands of Vanua levu and Moce, and the Ra province. The women were chosen to attend the workshop because of their exceptional masi making skills, as well as for being leaders and authorities on masi within their own communities. The workshop also gave the Fiji Museum the opportunity to document the traditional and contemporary masi materials and techniques that were demonstrated during the workshop, and gave both the Fiji Museum staff and the general public a chance to learn more about masi from their demonstrations.
The high level of public interest in the demonstrations resulted in newspaper articles being written and a documentary produced about the workshop, as well as the attendance of many school groups. The masi makers were then given the time to study historic pieces of masi stored at the Fiji Museum and were also shown conservation techniques that are used in museums to repair and store masi. This was especially of interest to the women, as pieces stored within their own communities usually do not last longer than thirty years due to structural and insect damage.  Conservation techniques were also demonstrated, including being shown how to safely reduce and remove creases, and how to roll masi for long-term storage to avoid structurally damaging creases that can make the masi susceptible to tearing more easily. The preparation and application of different adhesives for tear repairs was also shown. These included the standard conservation adhesives of Japanese wheat starch paste and methylcellulose. A gluten-free starch paste recipe made from normal flour and a paste made from cassava (a local potato variety) were also used, as the ingredients for these adhesives is more accessible for Fijians living in remote villages.
It was emphasised that the consideration of any materials used for repairs should always be tested on samples before being applied to significant pieces of masi. It was also emphasised that any adhesive considered being used should firstly be applied onto samples and be left for a few months, to observe if the repairs remain stable and also to see if the adhesives do or do not attract insects. The workshop was a great success and a lot was learnt from both sides.
First posted February 1, 2015 INCCA-AP website by Natasha Trenear
Contact Email: tash.trenear@gmail.com Natasha Trenear completed a Master of Cultural Materials Conservation at the University of Melbourne and has worked with collections at the Fremantle Prison (UNESCO World Heritage Site), Fiji Museum, Heritage Victoria, Museum Victoria, Smithsonian Institution, and Western Australian Museum. As a Conservation Fellow at the Smithsonian Institution Anthropology Conservation Laboratory, she was mentored by four senior conservators in the conservation of a 19th century bark cloth collection. While at the Smithsonian, she was able to collaborate with staff from the Fiji Museum and was consequently invited to take part in their masi workshop.