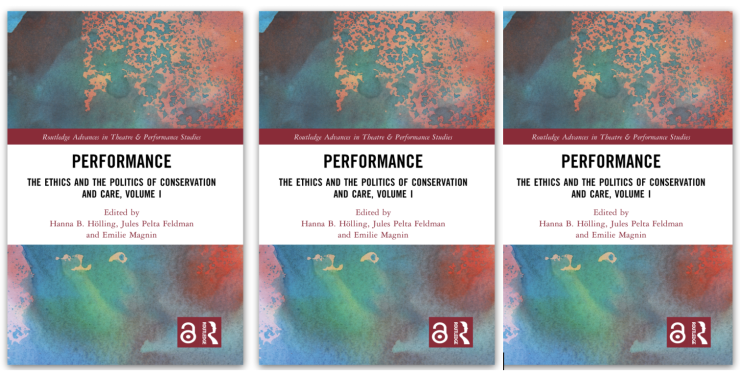 🌟 Discover "Performance: The Ethics and the Politics of Conservation and Care" 🌟
📢 Calling all art enthusiasts, scholars, and conservators! We are excited to announce the release of an exceptional book that will change the way you perceive performance art and its conservation.
🎭 Volume 1: "Performance: The Ethics and the Politics of Conservation and Care" 🎭
✨ Open Access: Available now!
📚 Hard Cover: Coming on October 25, 2023
Dive into the world of performance art as you've never seen it before. Edited by Hanna B. Hölling, Jules Pelta Feldman, and Emilie Magnin, this book brings together leading experts in the field:
🌟 Pip Laurenson
🌟 Rebecca Schneider
🌟 Gabriella Giannachi
🌟 Helia Marcal
🌟 Shadreck Chirikure
🌟 Iona Goldie-Scot
🌟 Brian Castriota
🌟 Claire Walsh
🌟 Farris Wahbeh
🌟 Cori Olinghouse
🌟 Megan Metcalf
🌟 Kelli Morgan
🌟 Kongo Astronauts (Eléonore Hellio, Michel Ekeba)
🌟 Karolina Wilczyńska
🌟 Cauleen Smith
🌟 Erin Branningan
🌟 Luise Lawson
🌟 Dread Scott
🌟 Jacob Badcock
🌟 Valerian Maly
📖 About the Book:
"Performance: The Ethics and the Politics of Care" redefines our approach to conserving performance-based artworks. For too long, this aspect has been overlooked in theoretical debates about performance. This volume demystifies the complexities of performance conservation, offering both theoretical frameworks and practical guidance for preserving performance.
As performance art gains prominence in the art market and museums, the need for discussions on long-term care has become urgent. This book sheds light on the pioneering work of conservators, curators, and scholars in this field, sparking a broader conversation.
🌐 Interdisciplinary Impact:
This interdisciplinary book challenges and revitalizes our understanding of performance art across various fields, including art history, theater, performance studies, heritage studies, and anthropology. It's an essential read for conservation students and professors seeking literature on this critical subject.
📚 ISBN: 9781032314877
📖 416 Pages
🖼️ 50 B/W Illustrations
📆 ePub, Open Access: Available now!
📆 Hard Cover: Coming on October 25, 2023
Explore the world of performance art conservation and care with "Performance: The Ethics and the Politics of Care." Get your Open Access copy today and be part of a transformative discourse that will shape the future of performance art preservation! 💫
https://www.taylorfrancis.com/books/oa-edit/10.4324/9781003309987/perfo…