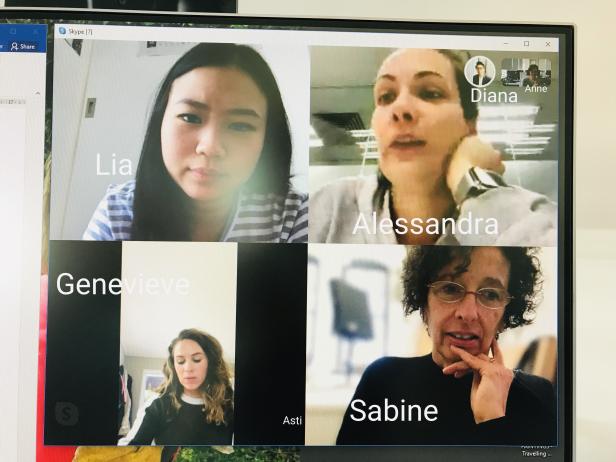 Please welcome new members of the INCCA-AP steering committee Alessandra Guarascio (Italy/Hong Kong), Asti Sherring (Australia), Genevieve Silvester (New Zealand), and Lia Sumichan (Australia/Indonesia). Thank you to returning members Anne Carter (Australia), Diana Tay (Australia/Singapore) and Sabine Cotte (Australia/France).
INCCA-AP connects with conservators, curators, artists, scientists and others working with contemporary art in the Asia Pacific region to discuss complex contemporary art issues. Intricate art installations, time-based-art hardware obsolescence, mould, the artist's voice and conservation materials are some of our concerns. If you have projects you would like to profile, please email us at incca.ap@gmail.com
We know that INCCA-AP has huge potential as a forum for sharing knowledge. In 2020 we will continue to build networks and promote membership of the group to enable better sharing of information. We will profile case studies and projects in the region through articles and forums on the INCCA website and work towards a 10 year anniversary celebration for 2024. 
Become a member of INCCA today to connect with us! https://www.incca.org/user/register 
Alessandra Guarascio is the Installation Art Conservator at the M+ Museum in Hong Kong, where she is working on the documentation, preservation and presentation of installations and complex works of art part of the collection. At the M+, she is also the co-chair of the Time-Based Media Committee. She obtained her MA with honours in the Conservation of Contemporary Art at the Brera Academy of fine Art in Milan, with a thesis on the documentation and rearrangement of a complex installation by John Bock.  Alessandra is focused on developing her know-how through professional courses and workshops, keeping abreast of innovation in the field of Time-Based Media and Variable Art Conservation. 
Asti Sherring is a time-based art conservator at the Art Gallery of New South Wales, Australia. Asti completed a Bachelor of Media Arts with honours from Sydney University in 2005. She completed a Post-Graduate Certificate in photographs conservation (Melbourne University) in 2011 and a Masters of Materials Conservation specialising in paper and photographic materials in 2012. Previously, Asti has worked with the Biennale of Sydney, Museum of Contemporary Art and the National Archives of Australia. Asti undertook a photographs conservation fellowship at the Los Angeles County Museum of Art in 2014. In 2017 Asti began postgraduate research in the form of a PhD at the University of Canberra.  
Genevieve Silvester is a Kiwi born, UK trained Paintings Conservator who has special interest in materials and techniques and their analysis. She enjoys the complex materiality of modern and contemporary art and the added dynamic of working with living artists. In her role as Paintings Conservator at the Auckland Art Gallery she contributes to the safe stewardship of the collection of the Gallery by promoting and facilitating the care of the painting collection as well as long- and short-term loans for temporary exhibitions. She is fortunate to have the opportunity for additional collaborative research and is currently working with the University of Auckland on a dendrochronology project. Outside her role as Painting Conservator she is also a member of the New Zealand Conservators of Cultural Materials. 
Lia Sumichan holds a Bachelor of Commerce from the University of Melbourne and has just recently completed her Master of Cultural Materials Conservation in paintings conservation from the University of Melbourne. She is also particularly interested in conservation in the tropics, preventive conservation and materials science. She hopes to further contribute to the development of the conservation field and profession in Indonesia with recent engagements including a preservation needs assessment survey project with Jakarta Museum of Fine Arts and Ceramics in 2018, presented the work at the AICCM Environmental Risk Conference in Melbourne in February 2019 and minor thesis topic on the technical art study of Affandi's painting materials and techniques. As an emerging conservator and together with INCCA-AP, she is excited to keep on learning while further unravelling and sharing the beauty, revelation and excitement that conservation has to offer. 
Anne Carter is a paintings conservator working at the Queensland Art Gallery|Gallery of Modern Art (QAGOMA) in Brisbane, Australia. Anne studied conservation at the University of Canberra before undertaking a two-year internship in paintings conservation at the Museum of Modern Art, New York. Anne has been working at QAGOMA for almost 20 years, with research and treatment interest in modern and contemporary paintings and has published on the work of Australian artists Ian Fairweather and Charles Blackman, on house-paint information contained in the Dulux Archives, Melbourne, and most recently on a collaborative project with the Heritage Conservation Centre Singapore investigating the materials of contemporary pre-primed artist canvases. 
Diana Tay is a paintings conservator currently undertaking her PhD at the University of Melbourne. Her research hopes to generate a knowledge base of technical data of Singaporean paintings (1940s - 70s) through multispectral imaging and material analysis. She holds a Master of Cultural Materials Conservation (2014) specializing in paintings and contemporary art conservation of Southeast Asian artworks. With ten years of experience, Diana has worked with international institutions such as the National Heritage Board Singapore, National Museum of Philippines, TATE Britain as well as with contemporary artists and private collectors to conserve, preserve and better understand their collections. 
Sabine Cotte  is a freelance paintings conservator based in Melbourne, Australia. Sabine holds degrees in conservation from Institut National du Patrimoine (France) and ICCROM (Italy), and a PhD from the University of Melbourne on the materials and techniques of French Australian artist Mirka Mora (1928-2018). Her book 'Mirka Mora, a life making art', based on her PhD, was published by Thames and Hudson Australia in July 2019. Sabine has published research on Himalayan thangkas, Mirka Mora and on artist interviews in conservation.