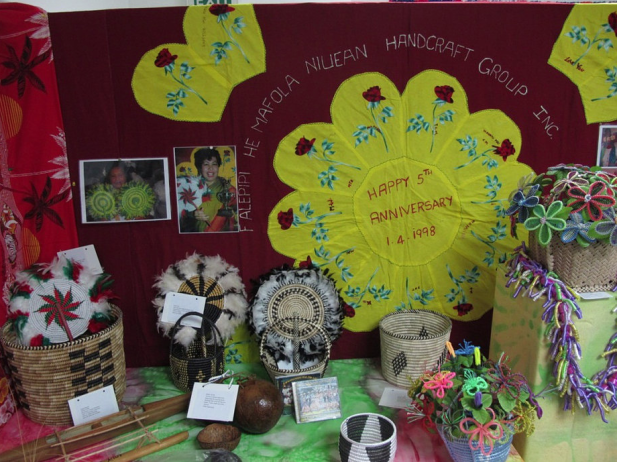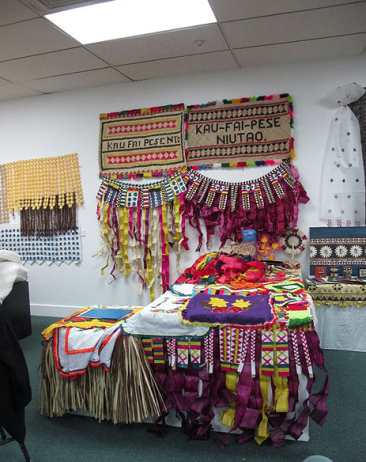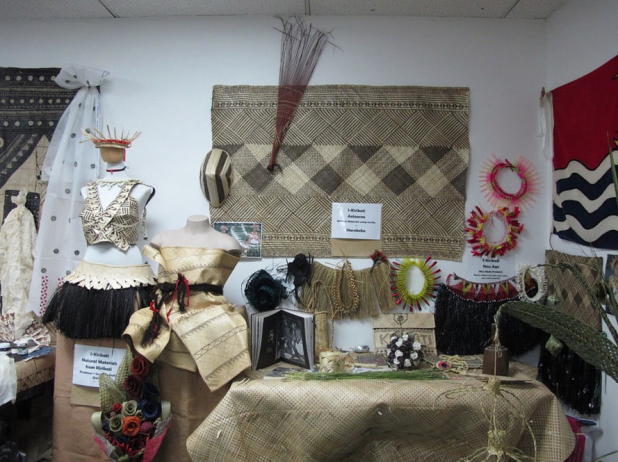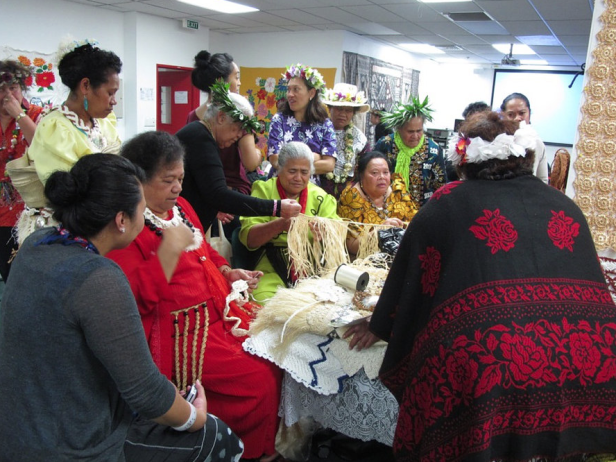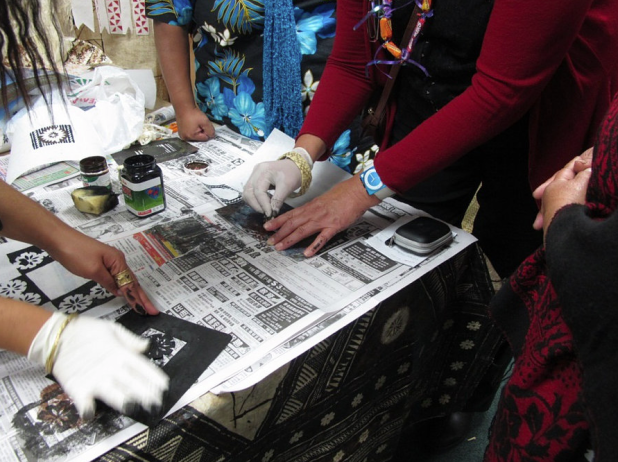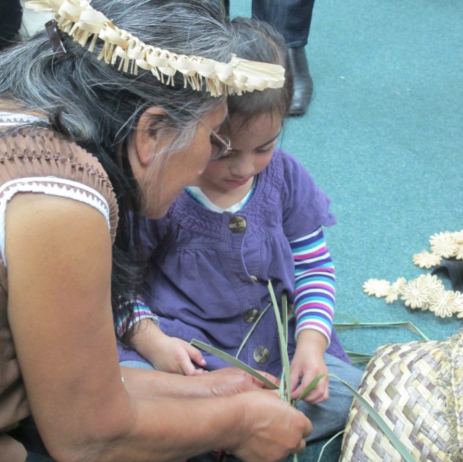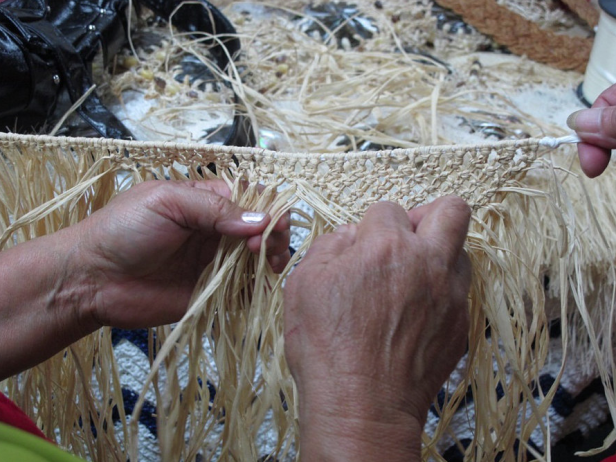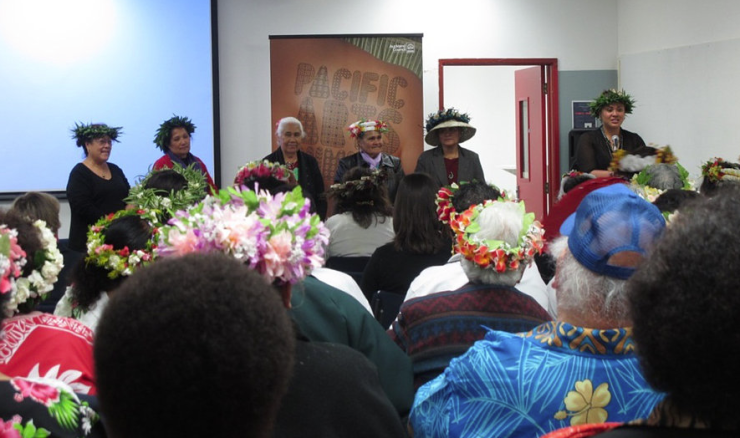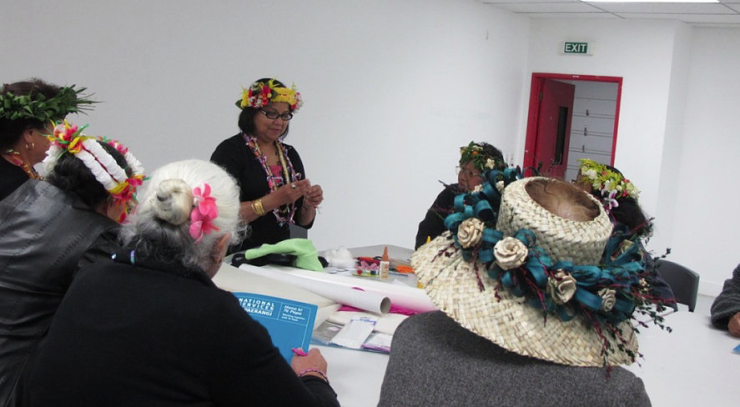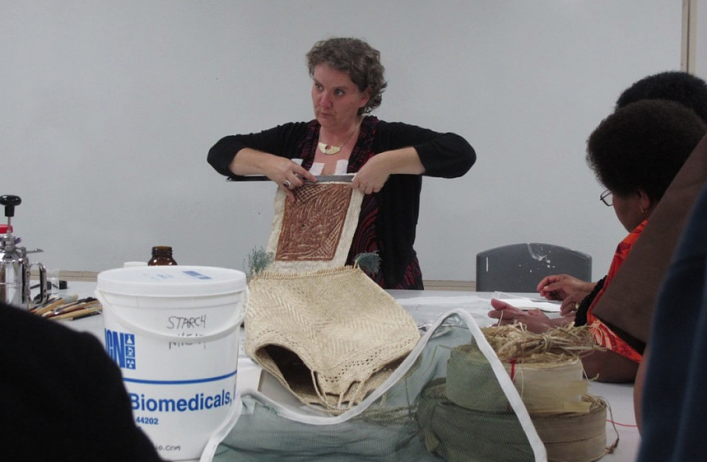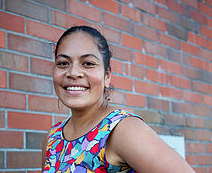 Kolokesa Mahin-Tuai, (Associate Curator- Pacific) at Auckland Museum speaks with Sarah Hillary about the Pacific Island Arts Fono, or gathering, hosted at the Auckland Museum in October 2015.
In this profile Kesa elaborates about why this sort of gathering is needed, the reason for the focus on heritage arts, and how it differs from another meeting held at Te Papa in 2011.
What is the focus of the program? The Auckland War Memorial Museum Tāmaki Paenga Hira (Auckland Museum) hosted Creative New Zealand's (CNZ) inaugural national 3 day 2015 Heritage Arts Fono. The purpose of the fono (or gathering) is primarily to provide a forum for heritage arts practitioners to gather, share and exchange their respective knowledge and experiences with each other and museum professionals. The event looked at the making, materials and conservation aspects of a variety of heritage art forms such as weaving, tīvaevae, tapa, crochet and embroidery, and how these art forms are used in different cultural contexts in Aotearoa New Zealand. Our diverse Pacific languages are one of our key heritage art forms as seen through performances of oratory, music and dance and these will also be featured during the gathering.
Why was this event needed? Heritage arts are one of CNZ's key priorities for Pacific Arts and defined as "...artistic expressions and forms that reflect a particular cultural tradition(s) practiced by a Pacific Island group or nation." A former member of CNZ's Pacific Arts Committee, Tigilau Ness, eloquently expresses why there is a need for a focus on heritage arts and artists in his statement that 'A tree may branch and grow in any number of directions, and if you water the roots of the tree it will grow. The heritage arts are the roots of all Pacific arts.' An event such as the CNZ Heritage Arts Fono is therefore needed so that there is more awareness about the valuable contribution that our heritage artists and art forms hold in terms of maintaining and expanding (through adaptation and innovation) our heritage art forms from the homeland here in Aotearoa New Zealand. As a pan-Pacific event it also provides opportunities for sharing and exchange of ideas and approaches between makers, some of which are master artists, from different Pacific ethnicities. There are also key alignments of this event with museum institutions where there is a need for maintaining and nurturing relationships with source communities of the collections that we hold. So this also offers a great means for makers and institutions to interact and keep each other informed.
Our key target audiences are heritage arts practitioners. There were a selection of groups and practitioners that participated through presentations and demonstrations. However, Auckland is home to the largest population numbers for all but one of the Pacific ethnic groups in New Zealand so many Auckland based heritage arts groups and practitioners attended. Also in attendance as participants were Auckland museum staff – especially the Pacific Curatorial and Collection Management team, Learning and Engagement team and members of our Conservation team. National Services Te Paerangi (NSTP), the team within Museum of New Zealand Te Papa Tongarewa (Te Papa) that is responsible for providing museology support and training to the community to care for their cultural heritage, organised and coordinated Te Papa staff with knowledge and experience in working with Pacific material culture and conservation to attend and participate. Apart from the institutions directly involved this fono had appeal to other arts organisations that have Pacific collections or are interested in Pacific arts. There was also interest from students from tertiary institutions.
The fono is a free event and open to the public. How does it differ from Mamas and Museums held in 2011? 'Mamas and Museums: Pacific Women's Fine Arts and Museums Forum and Workshop' (Mamas and Museums) was part of the 2011 South Auckland Pacific Arts Summit. The concept for the 'Mamas and Museums' gathering was around information sharing between Pacific women artists / practitioners and museum institutions, and based around a range of their various art forms. This was in response to a gap in the knowledge, understanding and communication between our Pacific communities and museums. Conservation was an emphasis of the forum and provided Pacific women artists, museum professionals, and interested participants the opportunity to discuss and share their respective knowledge, experiences and perspectives on the variety of materials and resources used by our artists.
The aim of the 2015 Heritage Arts Fono expanded on what was offered at the 'Mamas and Museums' gathering by including men's heritage art forms and involving male practitioners. This has meant that we added an extra day and proposed three days in order to accommodate a good representation of both men and women heritage artists and art forms. We also expanded on the concept by building on the making, materials and conservation aspects by exploring how heritage art forms are used in different cultural contexts through the inclusion of language as expressed in oratory, music and dance. This hopefully illustrated the close interconnection between women's heritage arts domain and men's heritage arts domain.
Another key point of difference is that this fono was the first of four annual gatherings specifically focused on heritage artists and arts. So some time was set aside on the last day of the fono for an open forum for all participating practitioners involved and other practitioners in attendance to give feedback and suggestions for what they would like to have for future gatherings. This was an important aspect of the gathering because it is a means of empowering heritage arts practitioners to provide us with their vision and priorities for future gatherings.
Have there been any changes in approach since the last event by the Pacific artists, or by Museums and Art Galleries regarding collections? One of the key feedback from practitioners after the 'Mamas and Museums' event in 2011 was their wish for such a gathering to take place on an annual basis. It is therefore exciting that CNZ has made a commitment to funding an annual gathering specifically for heritage artists and arts for the next four years. Also due to expressions of interest at the 'Mamas and Museums' event from Pacific men asking why they and their art forms were not included, we have included them in the 2015 programme. The artists that took part in the 'Mamas and Museums' event valued the face to face interaction and exchange of knowledge and expertise with practitioners from other island groups and with staff from both Te Papa and Auckland Museum institutions. Staff from both Museums and NSTP also expressed the same benefits.
Key changes that have taken place since the 2011 'Mamas and Museums' event were inspired by the value that heritage artists found in meeting and networking with other heritage artists especially from different island groups. Another key change has been the increased awareness and understanding by museum professionals of the realities of heritage artists in terms of material choices that they use to create works from and how they store and look after works in their own home environment. The artists on the other hand really benefitted from getting an insight into what museums hold in terms of their Pacific collections, how museums care and store collections and some of the conservation issues relating to materials and storage.
First posted March 21, 2015 by Sarah Hillary on INCCA-AP website
Photo credits: Auckland Museum images from the 2011 "Mamas and Museums" event.