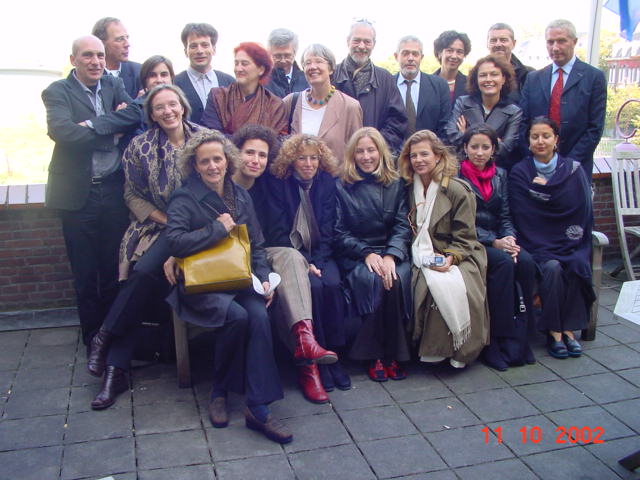 2022
2021
2020
2020 September Two positions for early career members are established on the INCCA Steering Committee.
2019
2018
2016
2015
2013
2010
2010 December Launch INCCA Iberoamerica. Group for Spanish and Portuguese speaking INCCA members.

 

2010 June Launch second thematic group: PhD and Postdoc Network.
2009
2009 December Launch first thematic group: INCCA Education; Launch INCCA Central and Eastern Europe.
2009 October INCCA presented in Sao Paulo, Brazil.
2009 May INCCA North America becomes non-profit organisation.
2009-2011 INCCA afffiliated project: PRACTICs which included the international symposium Contempory Art: Who Cares?
2008
2008 July:

INCCA presented to conservator/restorers, curators, archivists and artists in Ireland.
2007
2007 December Launch INCCA Italy
2007 May INCCA presented in France at database workshop. The meeting was organised in collaboration with the Centre de recherche et de restauration des Musées de France (C2RMF) and hosted at Musée d'art contemporain du Val-de-Marne (MAC/VAL), Paris.
2007 March Network by-laws adopted.
2006
2006 December Launch INCCA Member website. Through this website members can:

create and edit thier own records for the INCCA Database
search the INCCA Database for Artists' Archives
update their contact details
search for INCCA members

2006 December Louise Cone (Statens Museum, Copenhagen) becomes INCCA Scandinavia coordinator.
2006 January Launch INCCA North America.
2005
2005 April Official formation of the INCCA Steering Committee.
2004
2004-2007 INCCA affiliated project: Inside Installations: Preservation and Presentation of Installation Art
2004 May INCCA presented in North America for the first time. The meeting was organised by Carol Stringari and took place in the Guggenheim's Sackler Center for Education, New York. IJsbrand Hummelen, Tatja Scholte and Alberto de Tagle (ICN) gave an INCCA Database workshop. 

On day 2, Caitlin Jones and Carol Stringari presented the Variable Media Questionnaire, which had been initiated and developed by Jon Ippolito, and further developed by Caitlin Jones and Alain Depocas.
1999 - 2002 Founding project
A group of 23 individuals from 11 organisations established INCCA; the founding project was supported by the European Commission's Raphael Programme. During this project, the INCCA website and databases were developed and a substantial amount of artists' information collected. Almost 100 hundred artists' interviews were conducted and from this experience a Guide to Good Practice was created.
INCCA founding members:
Netherlands Institute for Cultural Heritage / ICN, Amsterdam

IJsbrand Hummelen, Tatja Scholte, Dione Sillé

Tate Gallery, London

Derek Pullen, Jo Crook, Bryony Bery, Jackie Heuman

Stedelijk Museum voor Actuele Kunst, Ghent

Restaurierungszentrum der Landeshauptstadt Düsseldorf

Cornelia Weyer & Gunnar Heydenreich

Solomon Guggenheim Museum, New York/Bilbao

Det Kongelige Danske Kunstakademi/ Konservatorskolen, Copenhagen

Mikkel Scharff, Bent Eshøy, Louise Cone

Fundacio 'La Caixa' / Centre Cultural de Barcelona

Galeria d'Arte Moderna, Turin

Academy of Fine Art / Faculty of Conservation and Restoration of Works of Art, Warsaw

Iwona Szmelter, Monika Jadzinska

Museum Moderner Kunst / Stiftung Ludwig, Vienna

Foundation for the Conservation of Contemporary Art / SBMK, The Netherlands

Andrée van de Kerckhove (Kröller-Müller Museum), Vincent de Keyzer (Gemeentemuseum Den Haag), Christiane Berndes (Van Abbemuseum), Lydia Beerkens (private conservator, on behalf of the Van Abbemuseum)
1997
Modern art conservators and curators from all over the world participated in the Amsterdam symposium 'Modern Art: Who Cares?'. Participants at the symposium agreed to share their knowledge and experience, and to collaborate in collecting new information by means of artists' interviews. A book of the same name was published in 1999 and consists of a comprehensive description of case studies from the project 'Conservation of Modern Art' and the decision-making and registration models developed. It also includes the entire texts of the symposium, lectures, forums and seminars.