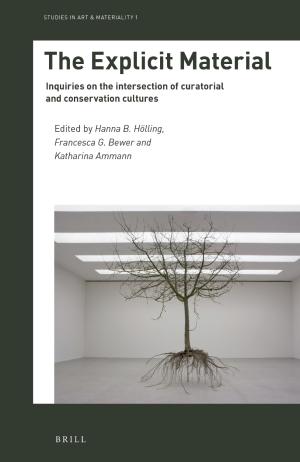 We are excited to announce the publication of a new anthology of essays, titled The Explicit Material: Inquiries on the Intersection of Curatorial and Conservation Cultures.
The book, co-edited by Hanna Hölling, Francesca Bewer and Katharina Ammann, gathers varied perspectives from the discourses of conservation, curation and humanities disciplines to focus on aspects of heritage transmission and material transitions. The authors observe and explicate the myriad transformations that works of different kinds-manuscripts, archaeological artefacts, video art, installations, performances, film, and built heritage-may undergo: changing contexts, changing matter, changing interpretations and display. Focusing on the vibrant materiality of artworks and artefacts, The Explicit Material puts an emphasis on objects as complex constructs of material relations. By so doing, it announces a shift in sensibilities and understandings of the significance of objects and the materials they are made of, and on the increasingly blurred boundaries between the practices of conservation and curation.
List of contributors (in alphabetical order): Katharina Ammann, Francesca Bewer, Judit Bodor, Thea Burns, Birgit Cleppe, Paul Eggert, Hanna Hölling, David Lowenthal, Jorge Otero-Pailos, Elisabeth Pye, Dawn W. Rogala, and Anna Schäffler.
Cover illustration: Com&Com (Johannes M. Hedinger/Marcus Gossolt), Baum (Tree), 2010. Installation view at Kunsthaus Pasquart Biel, Switzerland, 17 January–14 March 2010. Image: Daniel Schmid.
Log in to download an e-book of The Explicit Material via institution: https://brill.com/abstract/title/38670
The Explicit Material, published in Studies in Art and Materiality, Vol. 1, Leiden and Boston: Brill
Page Numbers: xviii, 290 pp., 55 full color ill.
Publication Date: 2019 
Hard copy available in July. 
To purchase the book, follow the links to Brill Publishing or Amazon.