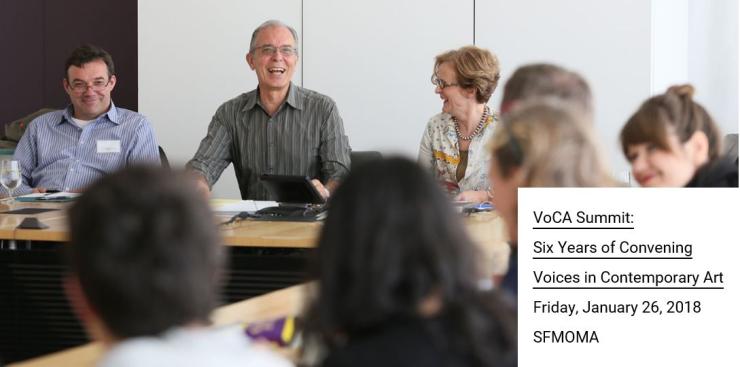 Location
SFMOMA
Date and time
-

This January, VoCA and SFMOMA will present a one-day gathering to convene many of the diverse voices in our network—artists, art historians, conservators, curators, educators, and more—to mark and measure six years of VoCA's signature program, the Artist Interview Workshop. By providing a platform for thought leaders to share and discuss their innovative projects, this event will reflect on the Workshop's lasting impact while pointing to the practices that will carry contemporary art stewardship into the future.

 

Thanks to our support from The Andrew W. Mellon Foundation, this symposium is free of charge, but registration is required. If you would like to attend, register online at

http://summit.voca.network/

by January 12, 2018. For those of you traveling from out of town, please note we have a reduced rate at the Park Central Hotel of $199 per night that will expire on December 15. Book via the VOCA Summit website.

 

VoCA Summit: Six Years of Convening Voices in Contemporary Art

San Francisco Museum of Modern Art

151 Third Street, San Francisco, CA 94103

Friday, January 26, 2018

9 am - 5 pm

 

Guest Speakers include:

 

Chad Alligood - Virginia Steele Scott Chief Curator of American Art at The Huntington Library, Art Collections, and Botanical Gardens

 

Michael Auping - Curator and Writer

 

Richard Cándida Smith - Professor Emeritus of History, University of California, Berkeley

 

Robin Clark - Director of the Artist Initiative, SFMOMA

 

Arlan Huang - Artist

 

Narayan Khandekar - Director of the Straus Center for Conservation and Technical Studies and Senior Conservation Scientist, Harvard Art Museums

 

Beth Krebs - Artist

 

Inge-Lise Eckmann Lane - Founding Board President, VoCA, Conservator in Private Practice

 

Pip Laurenson - Head of Collection Care Research, Tate

 

Jen Mergel - Curator of Platform, The Armory Show

 

Charlotte Meyer - Artist

 

Shervone Neckles-Ortiz - Artist Programs Manager, Professional Development, Joan Mitchell Foundation

 

Jess Rigelhaupt - Oral Historian

 

Gwynne Ryan - Chief Conservator, Hirshhorn Museum and Sculpture Garden

 

Yasmeen Siddiqui - Founding Director, Minerva Projects

 

Jill Sterrett - Director of Collections, SFMOMA

 

Gloria Sutton - Associate Professor of Contemporary Art History and New Media, Northeastern University

 

 

With a special performance by artist Chris Kallmyer.