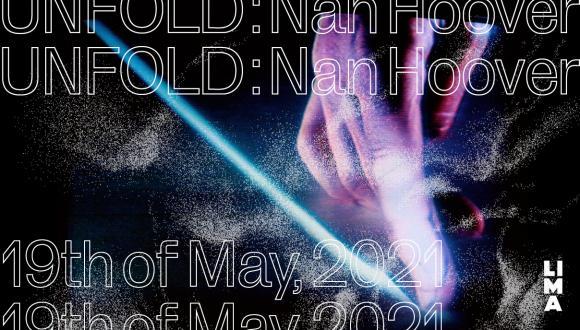 Location
Online
Date and time
-

UNFOLD: Nan Hoover
Wednesday, May 19, 2021 Online

 

UNFOLD: Nan Hoover is a one-day reinterpretation festival. On Wednesday, May 19, 2021, artists, experts, writers, programmers will shed their light on the oeuvre of the media art pioneer Nan Hoover (1931 - 2008) - who would have turned ninety in 2021. The festival is the third edition of LIMA's reinterpretation programme and gives many possible answers to the question of what the work is, or can be, today. What does it take to keep a media artwork in constant flux, continuously appropriated by artists and makers of all sorts? UNFOLD encourages artists, thinkers and the audience to think beyond the medium and to open up many possible futures for a historical body of work.  UNFOLD is based on the diversity of Hoover's oeuvre by focusing on a cross-fertilization between the disciplines of dance, performance and visual arts. The festival pays ample attention to the research and new productions. 

Online festival
The rich program of the day was planned to be offered both online and at LAB111 in hybrid form. In panel discussions, live streams, Zoom sessions, performances, sound installations and video works, countless possibilities of art transfer are discussed, explored and performed. With the current restrictions in place, we will host the event online and offer visitors a different experience that is in essence the same: rediscovering, seeing and experiencing Nan Hoover's groundbreaking work. If the situation allows, we will return to our original plan of the event taking place in both offline and online forms. Follow the Facebook event and stay posted on any updates! Tickets for the event are available here.

Nan Hoover
Hoover is widely recognized as one of the pioneers of media art and as a "multimedia artist" was way ahead of her time. She was a sculptor and painter and engaged in photography, video, installation and performance. Hoover was a pioneer in video and performance art in the Netherlands. She has exhibited in numerous solo and group exhibitions and participated in prestigious art events such as documenta XI and documenta XIII (Kassel, 1977 and 1987) and the Venice Biennale in 1984. Hoover was always looking for the best form to express her ideas. In doing so, she changed medium when necessary, while not avoiding extensive technical experiments. In her work, Nan Hoover had a clear goal: she wanted to trigger the viewer's imagination. She wanted to open a dialogue rather than impose something. She used different disciplines to achieve this goal - video, performance, photography, drawing, sculpting and painting - the tools she used were always the same: light, movement, time and space.
 
Programme
More than ten contemporary artists will perform and present Hoover's work in a new, unconventional way and experiment with hybrid forms from 3 to 9.30 pm CET. The programme includes a text-based sound installation by Sandra Sterle: a reply to a voice message from Nan Hoover that she received 25 years ago, a walking performance in a multimedia installation by Vera Sofia Mota, in which the artist explores the notions of time and movement and a lecture by Davor Sanvincenti about Hoover's notations studies on transposing and expanding the visible forms into a new visual language. The festival also provides a space for reflections on Hoover's oeuvre and its activation.
 
Pre-event: LIMA Online
In the run-up to the festival there will be a special broadcast of LIMA Online with Quirine Racké & Helena Muskens. On Hoover's birthday, Wednesday, May 12, 2021, we will present and discuss Hoover's work with her former students and dear friends. Amongst many things, we will screen the video portrait My Life as an artist, by Racké and Muskens. 

This event is supported by the Mondriaan Fonds.