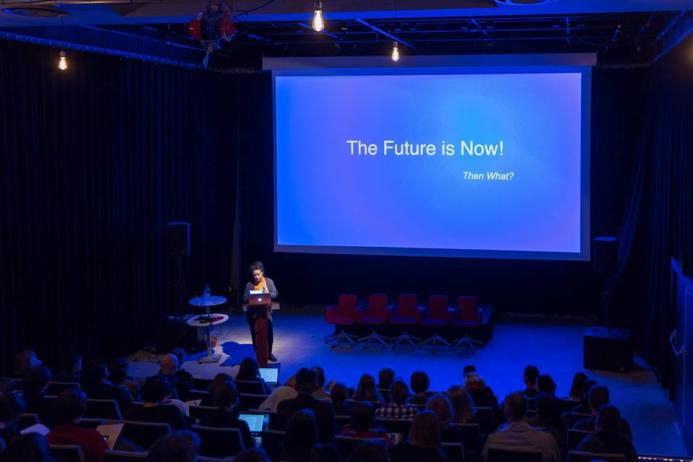 Location
LIMA, Arie Biemondstraat 11, 1054 PD Amsterdam
Date and time
-

Transformation Digital Art symposium is designed as an opportunity to share best practices concerning both artist-led and institutional strategies geared towards the future presentation of born-digital and software-based art. Inviting international participants from an array of professional backgrounds, the symposium continues in the tradition of the 2016, 2017 and 2018 editions but continues to push further, questioning what strategies could be developed in order to take artworks of an inherently digital, performative and processual nature into the future. In two days with lectures, workshops and panels LIMA wil share knowledge on this complex topic. Through collaboration with artists, museums, archival professionals, scholars and collections, the symposium responds to the question: What new strategies can we develop in order for born-digital art to become future proof?

The first day of this two-day symposium will be dedicated to lectures, presentations, panel conversations and open discussions within the field of media art preservation. These sessions will challenge historical and museum frameworks by examining an array of questions about the critical aspects of (digital) media, archiving, collecting, education and mediation. Speakers will share best practices, research and case studies concerning both artist-led and institutional strategies directed at the future presentation of born-digital and software based art. The second day will consist of workshops as well as presentations of LIMA projects.

We are pleased to announce the first list of contributors to Transformation Digital Art 2019, and are excited to welcome these artists, conservators, researchers and curators to a productive and lively 2-days Symposium in March: Martijn van Boven (Artist), Jennifer Helia DeFelice (Vašulka Kitchen Brno), Tom Ensom (Digital Conservator), Sanneke Huisman (Curator), JODI (Dirk Paesmans and Joan Heemskerk) (Artist), Jan Robert Leegte (Artist), Gabriel Lester (Artist), Adam Lockhart (University of Dundee), Aymeric Mansoux (Artist/Researcher), Julie Bosschat Thorez (Artist/Researcher), Marije Verduijn (Centraal Museum Utrecht), Willem van Weelden (Gerrit Rietveld Academie), Glenn Wharton (New York University), Emile Zile (Artist). More contributors to be announced soon.

PROGRAMME
DAY 1: Thursday, March 21, 10:00 - 17.00
DAY 2: Friday, March 22, 10:00 - 17:00

LOCATION
The symposium will take place at LIMA in Amsterdam.
LIMA, Arie Biemondstraat 111, 1054 PD Amsterdam, Netherlands.

TICKETS
Registration for the symposium is mandatory.
Tickets are €30,- (incl. VAT) per symposium day, per person, and includes lunch.

More information on the symposium can be found on our website and on our Facebook.

Transformation Digital Art symposium 2019 is supported by Creative Industries Fund NL.