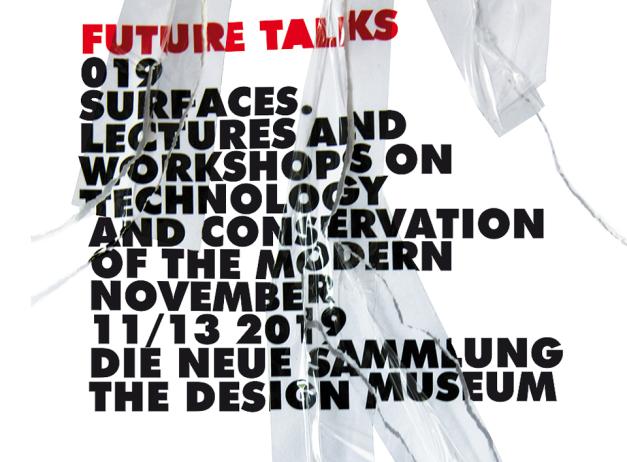 Location
Die Neue Sammlung – The Design Museum, Türkenstraße 15, 80333, Munich, Germany
Date and time
-

Online booking is now available at:
https://dnstdm.de/en/registration-019/

The early bird catches the worm!
EARLY BIRD registration until August 31, 2019.
Please note there is a higher fee if you register after August 31, 2019.

CONFERENCE FEE (3 DAY-TICKET)

The registration fee is graduated.

REGULAR
Early bird (booking and payment until August 31, 2019) : € 250,00
after August 31, 2019: € 350,00

STUDENTS
Early bird (booking and payment until August 31, 2019): € 150,00
after August 31, 2019: € 250,00

EVENING RECEPTION (November 12, 2019):
€ 50,00 (includes an open buffet and free drinks)

Full fee covers documentation, coffee breaks and apero.
After registration you'll receive an email with detailed information on payment and bank account.
Payment must be transfered to Die Neue Sammlung not later than September 30, 2019 (Early Bird: August 31, 2019).
Numbers for the conference are limited and early registration is advised.
Register as soon as possible to avoid disappointment.
Day passes are not available.
Please note that registration and timely payment is required to participate.


THE TOPIC
The FUTURE TALKS 019 are focussing on modern SURFACES.
The detailed conference programme is available at:
https://dnstdm.de/en/program/

Both in the design and the art world surfaces are the first reference point and the interface between object and recipient. Designers and artists, as well as the industry spent a lot of energy and research into the development of surface structures, whether they might be glossy, matt, transparent, transluscent or coloured, responsive, smart or intelligent. The professional treatment of surfaces is often the ultimate and most difficult challenge for the conservator of modern heritage. Besides a profound knowledge of materials and technologies the conservator needs to have the necessary skills available to handle these challenges in a most reasonable, appropriate and professional way. The FUTURE TALKS 019 conference is focussing on the evolution and role of modern surface technologies in design and art, the diversity of visual qualities and appearences, the ageing phenomena and its public reception, scientific research, documentation techniques, decision-making and the practical conservation treatments involved.
During the three day conference an interdisciplinary set of experts from all over the world (24 nations at the last FUTURE TALKS conference) will share their experiences and knowledge in this field.

It is with great pleasure that we are able to offer a morning session of workshops all related to our this year's topic modern SURFACES.

Social events and opportunities to visit local conservation studios, research labs, plastic producers and design studios will accompany the conference programme.

The conference and the associated publication will be in English language.

The detailed conference programme is at:
https://dnstdm.de/en/program


THE FUTURE TALKS
With more than 1000 participants in the last 10 years the FUTURE TALKS became a highly recognised and established forum for interdisciplinary lectures, workshops and discussions on modern materials and technologies and its impact to the world of conservators, scientists, designers, artists and design and art galleries.

With the focus on an increasing number of interdisciplinary contributions related to technologies and modified analysis techniques, our goal is to improve the decision-making process in the conservation of modern materials and to discuss/define possible ways of active treatments.

FUTURE TALKS helps to raise public awareness to the fact that even serial products are faced with a gradual degradation process of material which can result at worst in a loss of cultural identity and history.

FUTURE TALKS 019 will be yet another extensive three day congress on international research projects and case studies both on active conservation treatments of modern materials in design and modern art and on related material and technology science.
This time the conference will be accompanied by a morning session of exciting workshops and INCCA mentoring sessions.


THE PUBLICATION
This year the fifth issue of the conference postprints - FUTURE TALKS 017 - will be available at the conference.