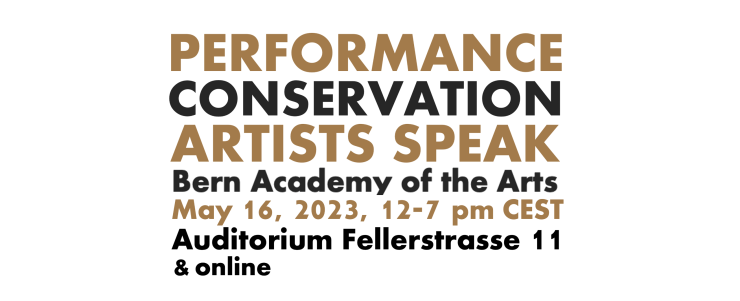 Location
HKB Bern and Online
Date and time
-

Can performance art be conserved – and if so, how? In this colloquium, artists engaged with performance discuss the afterlives and legacies of their work, even considering performance's potential to serve as a form of conservation itself.

Once considered incompatible with mainstream institutions, live performance is no longer on the fringes of the art world. Today, it is presented, commissioned, and even collected by major museums around the world. But what does it mean to commit to maintaining a work of performance into the future – or reanimating one long buried in the past? The modern discipline of conservation has grown more sophisticated in recent decades, but it still struggles to approach artworks that transcend objecthood, frequently reducing them to documentation or mere relics.

Featuring presentations by a variety of international performance artists, this colloquium seeks to investigate how they approach the longevity and afterlives of their own work as well as the ways in which performance itself serves to conserve, revisit, and reinterpret the past. Some artists see any kind of conservation as antithetical to their conception of the live, whereas others embrace reenactment, reperformance, or documentary mediums such as video, photography, or oral history. Meanwhile, modern conservation practice involves both science and artistry, precision as well as interpretation. If conservators may sometimes behave like artists, it follows that artists might sometimes perform the work of conservators – either in transforming their own work or bringing events and artworks of the past into the present through artistic research and creative reinterpretation. Despite a great variety of approaches, each of the artists presenting will be invited and challenged to discuss their own relationship to conservation.

List of speakers:

Christian Falsnaes DK

Ido Feder ISR

Dorota Gawęda and Eglė Kulbokaitė CH

Pascale Grau CH

Rosanna Raymond NZ

Davide-Christelle Sanvee CH

"Conserving Performance: Artists Speak" is the third annual colloquium organized by the members of Performance: Conservation, Materiality, Knowledge (Hanna B. Hölling, Jules Pelta Feldman, and Emilie Magnin), a research project sponsored by the Swiss National Science Foundation and located at Bern Academy of the Arts (HKB). Questions may be directed to performanceconservation@gmail.com.

This event will be held in person and on Zoom. The event is free, but you need to register in order to attend. Please make sure that you register either for the online or the in-person event. A Zoom link will be circulated to registrants shortly before the event. At the HKB, refreshments will be provided during breaks.