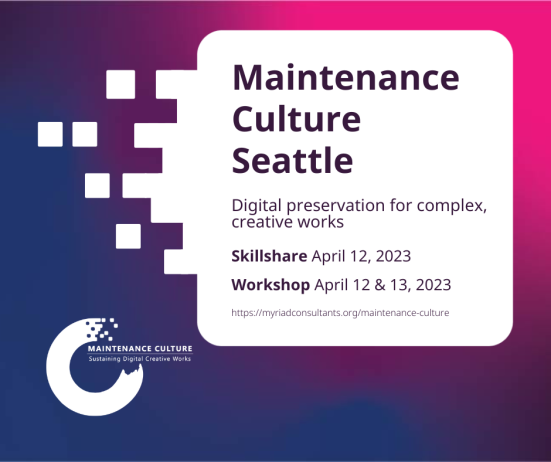 Date and time
-

Maintenance Culture, a National Endowment for the Humanities (NEH, USA) grant-funded project, is hosting a free workshop and skillshare in Seattle, WA.

Maintenance Culture workshops and skillshares are focused on the preservation of complex, born-digital creative works – things like time-based media, installation art, net art, augmented reality, and digital design. The Seattle workshop, held over two days at the Seattle Public Library, is for people who work in museums, libraries, and archives and maintain collections of this kind. Workshop participants will learn how to overcome the unique challenges that come with preserving complex digital materials and will also connect with peers in their region who also do this work.

Maintenance Culture skillshares are for both cultural heritage workers and local artists who create born-digital art. They are fun events that aim to build connection and share information between collection maintainers and artistic creators. The Seattle skillshare will be hosted at the Wing Luke Museum.

If you are in the Pacific Northwest, join us!

The events are free, but you need to apply/register in advance via our website. Feel free to send any questions to Elena Cordova, Project Director, at elena@myriadconsultants.org

Please note: Maintenance Culture will be offering no-cost trainings and events in several other regions throughout the USA in 2023. Visit our website for information on our Baltimore, Houston, Detroit, Lost Angeles, and New Orleans sessions.