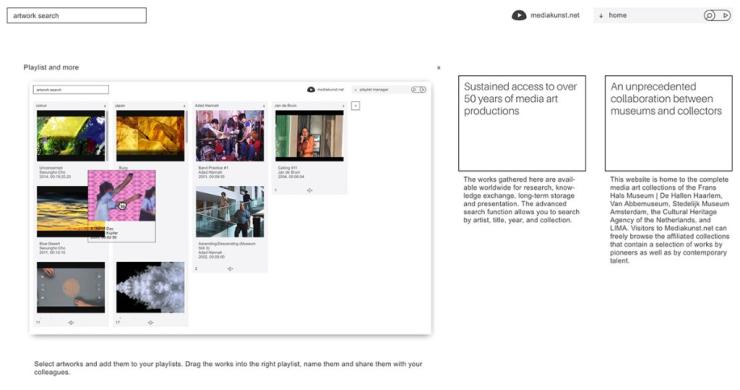 Location
Stedelijk Museum Amsterdam
Date and time
-

LIMA is proud to present Mediakunst.net, an online catalogue bringing together the media art collections of Frans Hals Museum, Stedelijk Museum Amsterdam, Van Abbemuseum, the Cultural Heritage Agency of the Netherlands and LIMA. These institutes joined forces and worked collectively on this project for three years. As a result, the complete media art collections of these institutes are accessible online. The media artworks hosted on Mediakunst.net are available for research, knowledge exchange, sustainable storage and presentation. The catalogue is now open for users worldwide.

 

Five decades of media art accessible online

With Mediakunst.net, five decades of media art can be discovered online. Amongst these works are single channel videos, installations and software-based and online artworks by early pioneers and emerging talents. Mediakunst.net can easily be used by both the staff and visitors of museums. Searching by artist, title, year, keyword and collection is possible. Of all works a still, description and excerpt are available. Full-length versions are available to users with a personal login, available on request.

 

The collaborative approach initiated and coordinated by LIMA  provides visibility for and access to media art. The Dutch collections of video, media and digital art are accessible for experts, students, artists, curators and researchers. Next to this, Mediakunst.net is a new, joined interface for our collaborative digital repository - LIMA's digital depot that ensures sustainable storage of media art collections. Bringing together professionals, curators, artists and researchers during the development of the project provided greater insight into the challenges related to documentation and (re)presentation of media art online. Since the catalogue is open for new media art collections, Mediakunst.net will be an ever-growing collection of media art in The Netherlands.

 

Design and development

Mediakunst.net is designed by Pier Taylor and developed by Jaap van der Kreeft/TOXUS. The design underlines the goal of giving sustained access to media art. It is made to exude confidence and dedication and to provide subtle guidance where needed. Its minimal design also provides a suitable environment to fully focus on the artwork. Designer Pier Taylor about Mediakunst.net: "Mediakunst.net is a viewing environment. It should feel spacious and pleasantly arranged. I want the people who visit to feel that they treat themselves well. That there is something dignified about interacting with it that reflects back on the artworks. Then when people take an interest in a work the interface recedes presence so the art gets all the attention."

 

Launch

On Tuesday, June 19, at 3 pm, Mediakunst.net will be launched and presented at Stedelijk Museum Amsterdam during a public event. During the launch artist Julika Rudelius, art critic Sasha Bronwasser and video artist and theoretician David Garcia will discuss online visibility and the history, future and position of media art within institutions and museums. What is it like for artists, institutes and curators to have media art available online? Is it a blessing or does it detract from exclusivity for example? The conversation is moderated by Katja Kwastek, professor of modern and contemporary art history at the Vrije Universiteit. Tickets for this event are €3,- (museum entrance excluded) and can be bought

here.

 

 

Mediakunst.net has been made possible with the expertise and support of the Mondriaan Fund, LIMA and the participating institutions. Special thanks to DEN and Museum Boijmans van Beuningen.