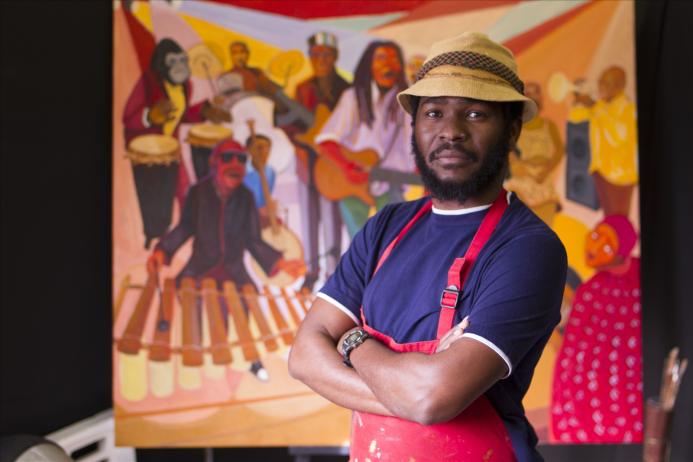 Location
Online
Date and time
-

On 5th October 2022, 5pm CET, we are thrilled to host the INCCA Talk of Richard Mudariki interviewed by Davison Chiwara.

Register here to obtain the link for INCCA Talk: Richard Mudariki with Davison Chiwara.
About Richard Mudariki
Richard Mudariki (b. 1985) is the founder of artHARARE Contemporary Art Fair. A respected visual artist in his own right, Mudariki trained as an Archaeologist but studied painting part-time at Gallery Delta in Harare under the mentorship of the late renowned artist, Helen Leiros.
He lives and works between Harare and Cape Town.
Mudariki's creative career spans over 20 years. In that period he has held six solo exhibitions and participated in numerous international, contemporary art exhibitions in London, Paris, Johannesburg, Cape Town, Harare, Milan and New York. His work is held in both public and private collections around the world.
Recent art exhibitions include 021-21 (2021), Stevenson, Amsterdam; Artist United (2020), Galerie Polaris, Paris; African Characters (2020), OSART Gallery, Milan; Five Bhob, Painting at the End of an Era (2019) at Zeitz Museum of Contemporary Art Africa in Cape Town, a travelling exhibition titled Centennial: 100 Years of Collecting from the Sanlam Art Collection (2019) and Filling the Gap (2019) at the South African National Gallery in Cape Town.
Mudariki has worked with the British Council in Harare as an art and culture intern, where he led the Power in the Voice Southern Africa Spoken word contest. He also sat on the Visual Arts Association (AVA) board in Cape Town.
Mudariki's practice has taken him around the world and he has spoken to various audiences around the world about his practice, notably at 1-54 Contemporary African Art in New York under the title Without a name: Living and working in between Spaces, as well as at a roundtable discussion on African contemporary art and its ecosystem at UNESCO, Paris, as part of their Africa Department Discussions.
About Davison Chiwara
Davison Chiwara is a lecturer in the Department of Archaeology, Cultural Heritage and Museum Studies at the Midlands State University, Zimbabwe. Also, he is a doctoral candidate with the University of Pretoria, South Africa, doing a PhD in Heritage and Museum Studies. Further, he is a steering committee member of the International Network for the Conservation of Contemporary Art. His research interests focus on the conservation of heritage and museum and gallery practices.
Photo credit: Richard Mudariki