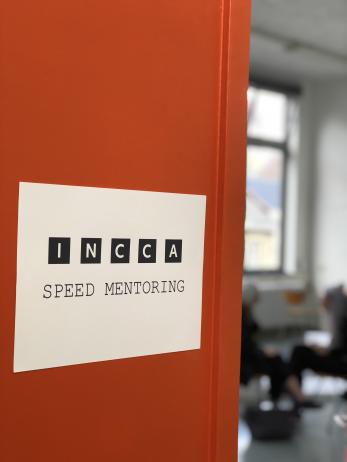 Location
Zoom
Date and time
Sign up to the INCCA speed mentoring session during
Contemporary Art Conservation Revisited: 20 Years Later  

Date/time: Friday, Jan 28, 2022 from 12:00-13:00 CET  
Are you joining Contemporary Art Conservation Revisited: 20 Years Later in Bern or online? If so, it is now possible to sign up to a fun and informal speed mentoring session on 28 January 12:00-13:00. 
The INCCA speed mentoring session is an opportunity for participants of the conference to meet with established professionals in the field. Inspired by and modelled after speed-dating, this session creates the chance to have short (10 mins) sessions of one-on-one time with recognized professionals in the field, without all the normal distractions associated with conferences. Although developed as an in-person event, the program has also worked well in the virtual world.  
Your session is an opportunity to ask your mentor anything you want! You can talk about them, about you, about the field in general, or about anything else. You will be in a private break-out room, so nobody will interrupt you, and our group of mentors are eager to listen, discuss and advise.  
Eight volunteer mentors have kindly agreed to participate in this session in Bern and it is now possible to sign up for a meeting!
The mentors are: Hélia Marcal, Christel Pesme, Alexandra Nichols, Carien van Aubel, Aga Wielocha, Claudia Röck, Pip Laurenson, Sanneke Stigter. You can find more info on the speakers in this PDF.
To sign up, please send an email to Ilka van Steen, INCCA coordinator on info@incca.org with your first and second preference. The slots will be filled on a first-come, first-served basis. Each mentor will be able to meet with a maximum of four people. Read more about the eight mentors in this
More information on the INCCA mentoring programme can be read here.
E-mail address
info@incca.org