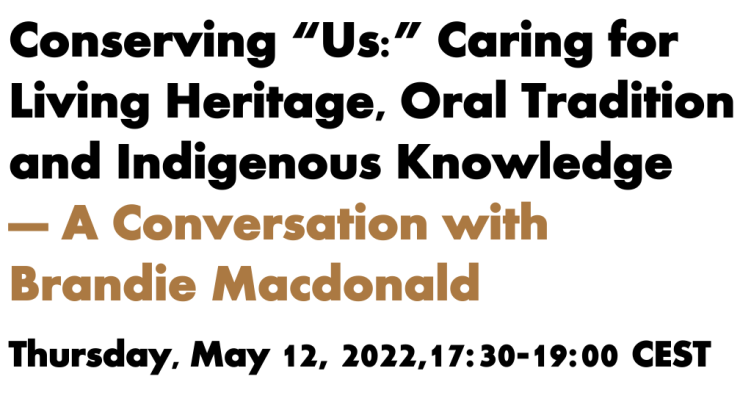 Location
Berne, Switzerland
Date and time
-

What does it take to care for living heritage and indigenous knowledge? What does it mean to conserve oral tradition or spiritual performance? Brandie Macdonald, the senior Director of Decolonializing Initiatives, Chickasaw Nation/Choctaw Nation at San Diego Museum of Us, will discuss these and related questions with the research team behind the SNSF research project Performance: Conservation, Materiality, Knowledge. Among the issues raised will be, how indigenous performance might be preserved in and beyond institutions, what decolonialization might mean in an institution concerned with indigenous culture, what does intellectual property mean in these contexts, how museums can become a space for engaging with living objects, and how to approach these objects through a decolonialized lens.

Brandie Macdonald (she/her) is a citizen of the Chickasaw Nation with ancestral ties to the Choctaw Nation. She is an Indigenous museum professional, a writer, active freelance museum consultant, and future ancestor. Currently, she is the Senior Director of Decolonizing Initiatives at the Museum of Us, located on Kumeyaay Nation territory in San Diego, California, USA. Brandie's work focuses on systemic change in museums through the implementation of anti-colonial and decolonial theory-in-practice, which centers truth-telling, accountability, and tangible change to redress colonial harm. Her 13 years working in non-profits is based around capacity building through transformative policy, repatriation, and education. Prior to her work at the Museum of Us, she has worked in areas of economic capacity building with Indigenous communities domestically, with intergenerational healing through culture-driven curriculum and poetry, and in gender and racial equity initiatives in the bicycle industry. Brandie is also an Education Studies PhD fellow at the University of California, San Diego. Her research, which aligns with her work as a practitioner, focuses on the sustainable application of decolonizing praxis in museums that enables transformative change and decolonial movement building – domestically and internationally. She holds a M.Ed. in International Higher Education, Loyola University-Chicago, and a B.A. in Applied Anthropology, University of North Carolina-Charlotte. Brandie is a Salzburg Global Seminar Fellow, an American Alliance of Museums' Nancy Hanks Award for Professional Excellent recipient, a Smithsonian Affiliate Fellow at the National Museum of the American Indian, and sits on the Western Museums Association board.

This conversation will take place online, within the Thursday Lecture series organized at the Department of Materiality in Art and Culture, Bern University of the Arts, as a part of the ongoing research project Performance: Conservation, Materiality, Knowledge funded by the Swiss National Science Foundation. The project focuses on the questions of conservation of performance-based works, their temporal specifics, the involvement of the human and non-human body, the world of their extended trace history, memory, and archive. Explored are notions of care, the ideals of traditional conservation and their relation to tacit or explicit knowledge, skill and technique. Taking as a starting point the necessity for conservators to access and deepen this area of study, and unlike queries that situate these questions within other disciplines, in this project, we approach performance as a necessarily conservable form.

Introduction and moderation by Hanna B. Hölling and Emilie Magnin, in collaboration with SNSF Performance team members, Jules Pelta Feldman and Valerian Maly. There will be a possibility to engage with the speaker in the Q&A.

This online event is free, but registration is required. A Zoom link will be sent to registrants directly before the event.