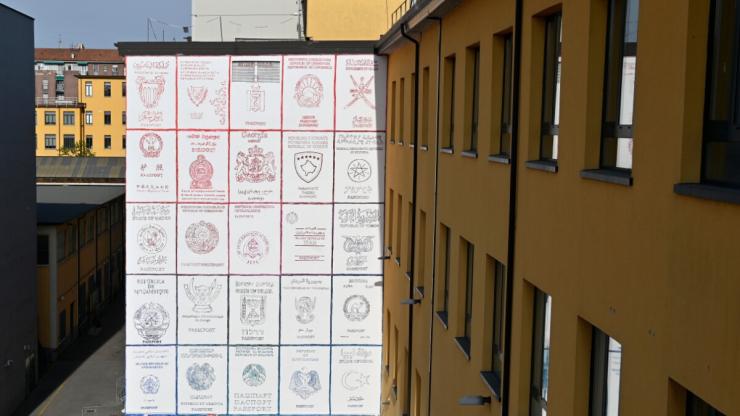 Location
Museo delle Culture (MUDEC), Milan
Date and time
-
Museo delle Culture (MUDEC), Milan
May 7–8, 2024
Co-organized with MUDEC
A symposium exploring issues related to public art in all its forms and multi-vocality
Public art is a reflection of our cultures with diverse meanings for the communities that interact with it. In all its forms, public art provokes reactions from the public. Conserving it is a complex process that involves different actors, with local communities playing a significant role in creating, assigning values, advocating for what needs to be preserved and, in some cases, conserving what is valued. Also important is the relationship between public art and museums.
"Public Art Inside and Out", which will take place in a hybrid form, aims to include a wide variety of professionals to exchange ideas—from practitioners to researchers and academics, artists, art historians, curators, conservators, architects, city planners, policy makers, collectors, benefactors and institutions procuring public art. 
Call for Proposals
We are seeking original, theoretical, and empirical proposals to contribute to and promote the debate on art in the public sphere. Papers will be presented in a dynamic format based on short presentations and panel discussions to allow maximum exchange of ideas between the speakers and the audience. 
Areas of interest include but are not limited to:
ephemerality and permanence (monumentality/anti-monumentality) 
living spaces
policy
relationships with nature
ownership
copyright/authorship/co-authorship/anonymity
new forms of public art/future art
conservation
documentation/alternative forms of memorialization
community involvement in memorialization/conservation
musealization of street/public art
art as soft power 
site specificity/replicability
monumentality, muralism, and contemporary art
Abstract Submissions
Abstracts should be submitted via the online form on the conference website.
Deadline to submit abstracts (maximum 500 words) is October 30, 2023.
Abstracts will be evaluated by a multidisciplinary committee. Authors whose abstracts are accepted, will need to submit a draft paper of up to 5000 words by March 15, 2024. 
Registration
Registration is now open and available via the online form on the conference website.
Registration closes March 15, 2024.
Organizing Committee
Romi Crawford, Art Institute of Chicago
Stavroula Golfomitsou, Getty Conservation Institute
Austin Nevin, Courtauld Institute of Art
Marina Pugliese, MUDEC
Photo: Andrea Scuratti, Comune di Milano
Organisation
Getty, MURDEC