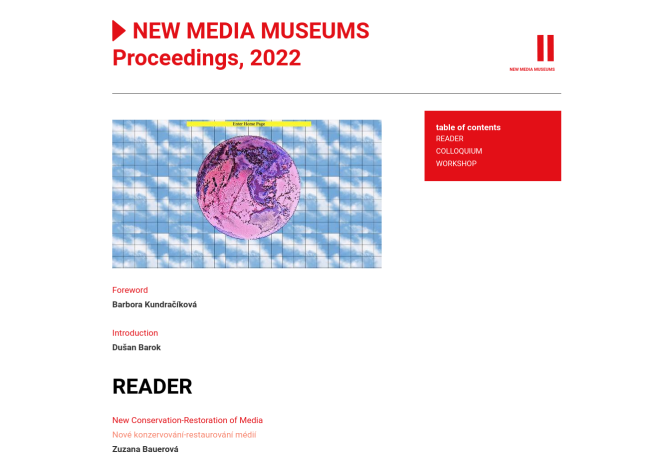 An open-access digital publication dedicated to the presentation and preservation of media art, with a focus on Central Europe, has been launched
The New Media Museums project provides a platform for knowledge exchange and collaboration in the collection, preservation and presentation of media arts and culture. Its members include art museums and other organisations working in these fields in Central Europe. The initial phase was designed as a practice-oriented research. The aim was to identify possible scenarios for the participating institutions to shape their preservation strategies and workflows in order to better incorporate new art forms. This was achieved through case studies carried out by each partner on selected works from their collections.
The publication documenting the project is divided in two parts. The first, the reader, contains commissioned essays presenting different approaches to media conservation. The second part contains video recordings of a colloquium organised as part of the project at the Olomouc Museum of Art in March 2022. The presentations are divided into three blocks, focusing on case studies of the project partners, different museum practices, and the archiving of video art and moving image. Many of the colloquium participants took part in a concluding round table discussion. A closer look at the case studies is provided by the video documentary, which was produced on the occasion of a workshop at the Slovak National Gallery in September 2021.
Contributors: Dušan Barok, Zuzana Bauerová, Jina Chang, Michal Čudrnák, Márta Czene, Dagmara Domagała, Kateřina Drajsajtlová, Jakub Frank, Márk Fridvalszki, Jitka Hlaváčková, Michal Klodner, Agnieszka Kubicka-Dzieduszycka, Barbora Kundračíková, Marie Meixner, Sonia Milewska, Sylva Poláková, Anna Schäffler, Morgane Stricot, Matěj Strnad, Anna Tüdős, Petr Válek, Aga Wielocha.
Edited by Dušan Barok
Editorial collaboration: Jakub Frank
Published by the Olomouc Museum of Art, Olomouc, 2022