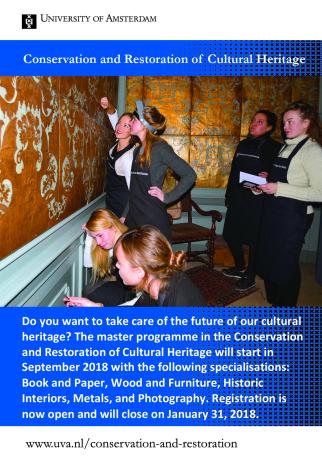 Registration for the selection procedure for the four-year graduate programme Conservation and Restoration of Cultural Heritage at the University of Amsterdam is now open for the following specializations:
Historic Interiors
Wood and Furniture
Metals
Book and Paper
Photography
These specializations will start in September for the academic year 2017-2018.
In the academic year 2018-2019 the other five specialisations will start again:
Contemporary Art
Glass, Ceramics and Stone
Paintings
Textiles
Technical Art History
To prepare for the application procedure and for a broad overview of what the discipline entails, the minor programme Conservation and Restoration can be followed as part of all BA programmes in the Humanities at the University of Amsterdam, and also offered as part of a transitional programme to prepare for the application procedure for the following year.
Application is open unit 31 January 2018.
For more information please visit our department website:
www.uva.nl/conservation-and-restoration.