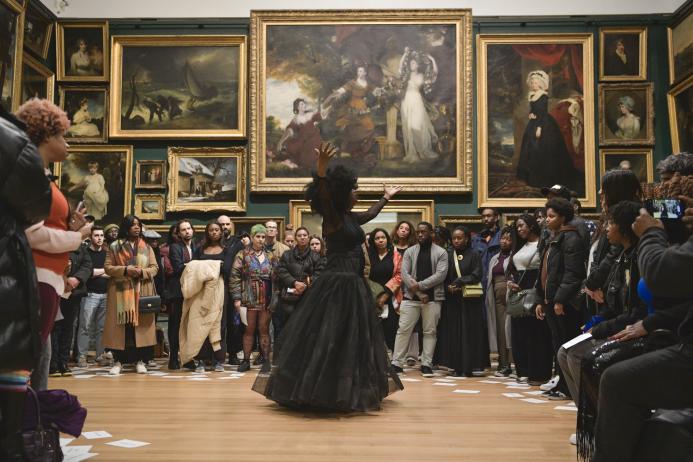 Tate, in collaboration with Delfina Foundation, invites applications for the Brooks International Fellowship Programme 2024, including one Fellowship in Collection Management.
Now in its tenth year, the Programme will enable visual arts professionals from outside the UK to work with Tate colleagues in London for six months in 2024, complemented by activities at Delfina Foundation, where Fellows will reside during their Fellowships.
Brooks International Fellowship 2024 in Collection Management
Fellowship dates: April 2–September 15, 2024
Tate encourages applications from candidates working globally in the field of collection management to undertake a programme of research into the need to embed environmental sustainability in relation to collection management practice. Using Tate's collection as the focus, the research will consider how institutions transport, acquire, lend, borrow, manage and share their collections across institutions and countries. 
The Brooks International Programme is aimed at candidates based outside of the UK, to allow them to learn from the cultural sector in the UK and so that they can bring their expertise of working in other regions to Tate. Candidates can be at any stage of their career development; we encourage applications from established and mid-career practitioners.
In 2024, three Brooks International Fellows will be hosted. The other Fellows will be hosted in Tate Visitor Communications and in Tate Modern Curatorial.
Fully funded Brooks International Fellowships are made possible by the generous support of the Rory and Elizabeth Brooks Foundation.
How to Apply
For more information and to apply, please visit Brooks International Fellowships on the Tate Vacancies website (see the 'Related Links' to top right of this page), read the full open call information and complete an application form.
Applications close on Thursday October 12, 2023, 5pm GMT.