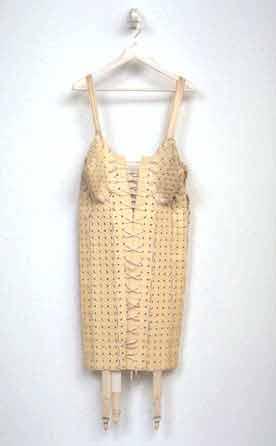 On Wednesday, December 9, 2015, CALL artist Mimi Smith sat down with Christie Mitchell at the Joan Mitchell Foundation Education & Research Center to discuss Smith's oeuvre and the experience of documenting her life's work. This event was one of a series of four that VoCA hosted this winter in partnership with the Joan Mitchell Foundation's Creating a Living Legacy (CALL) Program to highlight the innovative CALL initiative while also underscoring the crucial need for dialogue with artists around the production, presentation, and preservation of their work.
Mimi Smith is an acclaimed conceptual and textile artist that has been doing artwork since the 1960s, which was later categorized as "Feminist Art." In her best known work, often referred to as "clothes sculptures," Smith takes everyday objects and combines them to make dresses that explore issues such as equal pay, abortion, and the beauty misconception of women. Smith has exhibited extensively throughout the United States and internationally.
Christie Mitchell is an independent curator based in New York. Previously, she worked in the curatorial department of the Whitney Museum of American Art.
Voices in Contemporary Art (VoCA) is a non-profit organization focused on the preservation and stewardship of contemporary art. Please visit www.voca.network to learn more about our mission and programs. If you would like access to the transcript of this VoCA Talk or have any questions, please email: assistant@voca.network.