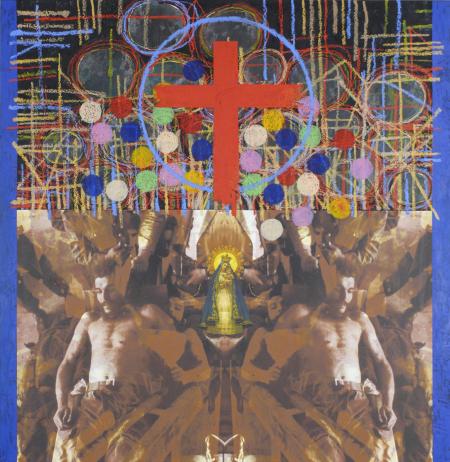 On Wednesday, November 18, 2015, CALL artist Juan Sánchez was interviewed by VoCA Leadership member Jennifer Hickey at the Bronx Museum of the Arts. The conversation covered the artist's many sources of inspiration, past and current work, as well as his life-long commitment to activism. This event was one of a series of four that VoCA hosted this winter in partnership with the Joan Mitchell Foundation's Creating a Living Legacy (CALL) Program, highlighting the innovative CALL initiative while also underscoring the crucial need for dialogue with artists around the production, presentation, and preservation of their work.
Sánchez is a Brooklyn-born activist, educator, and artist whose body of work explores his identity and Puerto Rican heritage through a variety of media. His mixed media paintings, prints, photographs and video installations have been exhibited throughout the United States, Europe, Egypt, and Latin America. Sánchez is currently a Professor of Art / Painting, Photography, and Combined Media at Hunter College.
In advance of his November 2015 CALL/VoCA Talk, Sanchez spent an afternoon walking through his solo exhibition at the BRIC Arts and Media House in Brooklyn with Conservator and VoCA Program Committee member Jennifer Hickey. Here, Sanchez discusses the development of his artistic practice, interweaving the personal and political through photography, painting, printmaking, collage, and video (https://vimeo.com/172642293).
Jennifer Hickey is a 2011 graduate of the Conservation Center of The Institute of Fine Arts, New York University, where she received her MA in the History of Art and Archaeology with an Advanced Certificate in Art Conservation.  As a specialist in the study and treatment of modern and contemporary paintings, Jennifer has worked at a number of leading conservation studios, both private and institutional.  Jennifer's past research has focused primarily on the materials and process of postwar American painters, and she continues this in her current role as Paintings Conservator for the Hirshhorn Museum and Sculpture Garden.
Voices in Contemporary Art (VoCA) is a non-profit organization focused on the preservation and stewardship of contemporary art. Please visit www.voca.network to learn more about our mission and programs. If you would like access to the transcript of this VoCA Talk or have any questions, please email: assistant@voca.network.