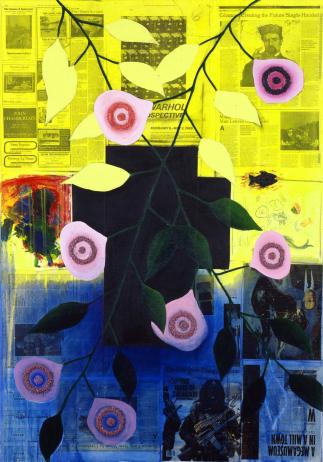 In October 2020, VoCA Board member Yasmeen Siddiqui sat down with artist Freddy Rodríguez at his home in New York to discuss his life, work, and artistic legacy. Together Rodríguez and Siddiqui explore the threads between the numerous and seemingly disparate bodies of Rodríguez's work, including his Vestment paintings, early geometric abstractions, Cimarron series, expressive paintings made via an artistic process he calls "creative destruction," and his fascination with the history of gold.
This conversation is part of the sixth season of our on-going CALL/VoCA Talks series, hosted in partnership with the Joan Mitchell Foundation's Creating a Living Legacy (CALL) initiative. These Talks aim to highlight the innovative CALL program while also underscoring the crucial need for dialogue with artists around the production, presentation, and preservation of their work.
This interview was recorded in Rodríguez's home on October 30, 2020 and both the artist and interviewer are wearing masks to mitigate the risk of COVID-19.
Voices in Contemporary Art (VoCA) is a non-profit organization focused on the preservation and stewardship of contemporary art. Please visit www.voca.network to learn more about our mission and programs. If you would like access to the transcript of this VoCA Talk or have any questions, please email: assistant@voca.network.