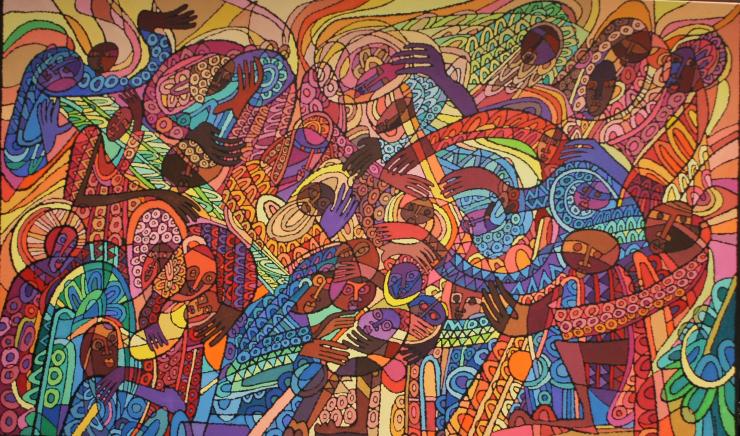 On Sunday, November 20, 2016 CALL artist Emmett Wigglesworth sat down with VoCA Program Committee Member Christie Mitchell at the Jamaica Center for Arts and Learning (JCAL) to discuss his life, legacy, and prolific career as a muralist, painter, sculptor, fabric designer, and poet in New York City. This event was the third in the second season of our on-going CALL/VoCA Talks series, hosted in partnership with the Joan Mitchell Foundation's Creating a Living Legacy (CALL) Program. These programs aim to highlight the innovative CALL initiative while also underscoring the crucial need for dialogue with artists around the production, presentation, and preservation of their work.
Emmett Wigglesworth is a muralist, painter, sculptor, fabric designer, poet, and educator who lives in Queens, New York, and has dedicated his life's work to serving communities across the US for over forty years. His career encompasses painting, drawing, set design, costume design, public art commissions, and book illustration, and his commissions can be seen at PS 181 Elementary School in Brooklyn, NY, the NY Cultural Council, Metropolitan Transit Authority, and Kings County Hospital.
Christie Mitchell is an independent curator based in New York and a member of the VoCA Program Committee.. Previously, she worked as a curatorial Assistant at the Whitney Museum of American Art.
Voices in Contemporary Art (VoCA) is a non-profit organization focused on the preservation and stewardship of contemporary art. Please visit www.voca.network to learn more about our mission and programs. If you would like access to the transcript of this VoCA Talk or have any questions, please email: assistant@voca.network.